Pesticides and Forestry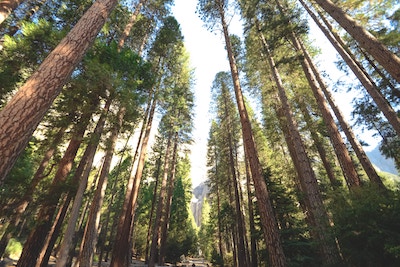 Pests are a problem in forests just as they are on farms and in gardens. Pesticides may be used in forests to control weeds, insects, animals, or diseases that can damage trees. They may be applied by aircraft, ground equipment, or by hand. A person needs special training and a license to apply a pesticide from an aircraft or in commercial forests.
Herbicides may be used before or soon after new trees are planted so that young trees do not have to compete with weeds for moisture and nutrients. They could be used to thin brush to reduce fire risks, or kill unwanted trees and invasive plants.
Tips for reducing risk:
Buffer zones around streams or homes can reduce the risk of exposure. Applicators avoid wind, high temperatures, inversions, or other poor weather conditions to reduce off-site movement of a pesticide (drift). While following the label's application directions should minimize drift, consider these tips if you live next to a forest that will be treated:
Check if your state has a notification system. You may be able to receive treatment notices.
Consider staying indoors or leaving the area during the treatment.
Think about closing any open windows or doors.
Turn off air intakes in a home ventilation system.
Consider covering sensitive items or moving them indoors. Think about toys, bird feeders, pet toys, and grills.
Learn about how a weed killer might move in the air, soil, or water with the Herbicide Properties Tool.
Call NPIC at 800-858-7378 for questions about health and environmental risks.
Contact your state pesticide regulatory agency if you think an application is not in compliance with state laws. You can also report an incident to this agency.
Regulation of pesticide use in forestry
Federal law states that all label directions must be followed. There may be state-specific laws that regulate pesticide use in forests. Some states have recommended Best Management Practices (BMPs) and some are voluntary.
Some states may require certain record keeping or treatment notices. There may be laws that establish a buffer zone between a treated area and a stream, river, private land, or other sensitive area. The width of buffer zones may vary if a product is applied by aircraft or on the ground.
Questions about pesticide use in local forests? Contact your State Forestry Agency. Please note this agency does not regulate pesticide products.
Questions about pesticide use in the U.S. National Forest System? Contact a Pesticide Coordinator with the U.S. Forest Service.
If you have questions about this, or any pesticide-related topic, please call NPIC at 800-858-7378 (8:00am - 12:00pm PST), or email us at npic@ace.orst.edu.
Additional Resources:
Last updated March 16, 2022