Pesticides in Your Community
Infographic: Vector Control in Your Community.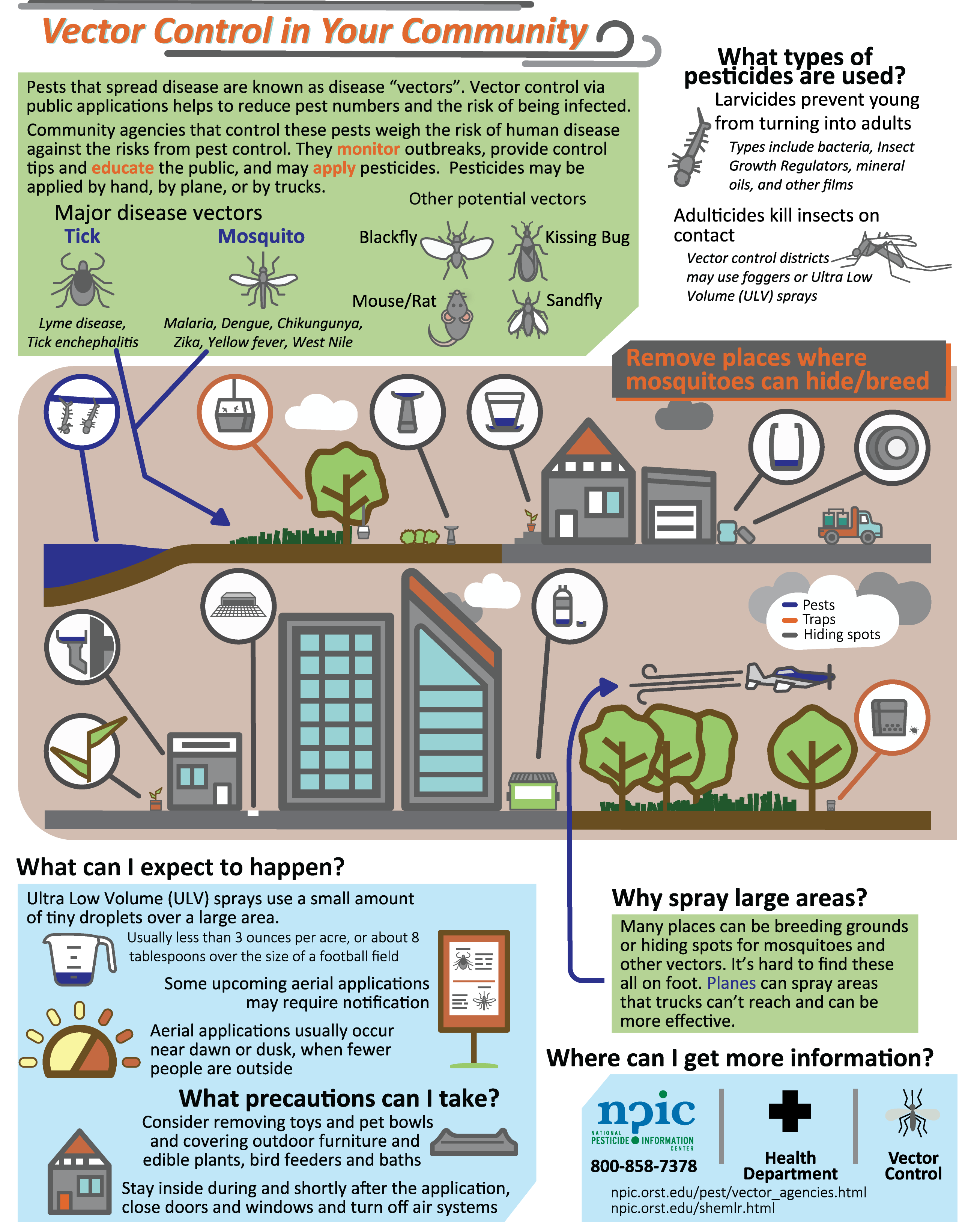 Pesticides can be beneficial to your community in many ways:
Vector control programs aim to reduce pests that transmit disease, such as mosquitoes, ticks, or rodents.
Suppression programs use pesticides to reduce invasive species and other pests that are destructive to agriculture, forestry or aquatic environments.
Pesticides may be used in public parks, or along roads and rights-of-way to control weeds or other pests.
If you live in a farm community, pesticides may be used in local agriculture or in urban agriculture.
Your neighbors may use pesticides to control weeds or insects in their yards.
If you are concerned about pesticide use in your community, there are several things you can do to reduce your risk of exposure:
Stay out of public areas with signs, flags, or postings that indicate a pesticide application has recently taken place.
Find out whether any prior notification laws exist in your area. Some states and local communities have neighbor, occupant, or school policies that require notification of residents before pesticide applications.
Check with your local health department or vector control agency about community pesticide programs in your area. Often, information about community-wide pesticide applications (such as mosquito spraying) are published in local newspapers.
Create ties with neighbors and local farmers. Ask questions about what pesticides may be used and if you can be notified of pesticide applications in advance.
Take steps to minimize your exposure. If you have questions about ways to reduce your exposure, contact NPIC and speak directly with a Pesticide Specialist.
If you have questions about this, or any pesticide-related topic, please call NPIC at 800-858-7378 (8:00am - 12:00pm PST), or email us at npic@ace.orst.edu.
Additional Resources:
Last updated April 15, 2019