Disposal of Pesticides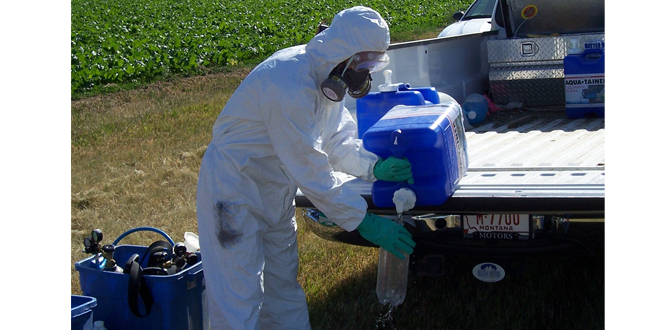 Pesticides need to be disposed of properly to prevent accidents and to protect the environment. If you have unwanted pesticide products, store them safely and dispose of them as soon as you can.
Dispose of pesticides as instructed on the product label. Look for the "Storage and Disposal" statement on your pesticide label.
If any product remains in the container it must be disposed of as household hazardous waste.
To find out where to take your unwanted pesticides, contact your local household hazardous waste, call 1-800-CLEANUP (1-800-253-2687), or talk to your state's environmental agency. Remember! State and local laws can be more strict than federal requirments.
After emptying a pesticide container rinse it properly for disposal or recycling. Never reuse a pesticide container for any purpose!
Be sure to wear protective clothing when rinsing pesticide containers, such as chemical resistant gloves and eye protection.
Apply rinse water according to label directions; only where the pesticide was intended to be used.
Do not pour rinse water into any drain or on any site not listed on the product label; it could contaminate the environment.
If you mixed or diluted a pesticide and you have a little too much left over, try to use it up while following the label. Consider asking a neighbor if they can use any leftover mixtures.
Keep these tips in mind:
Tips for transporting pesticides for disposal:
Keep the pesticides in their original containers with the labels attached.
Place containers so they won't shift and/or spill.
Line the transport area in your vehicle or place pesticides in a plastic bin to contain any spills in case of an accident.
If pesticides are carried in the back of an open vehicle, secure and cover the load.
Don't put pesticides in the passenger compartment of a vehicle.
Keep pesticides away from groceries, including food for animals.
Go straight to the collection site once you have loaded your vehicle. Drive carefully!
If you have questions about this, or any pesticide-related topic, please call NPIC at 800-858-7378 (8:00am - 12:00pm PST), or email us at npic@ace.orst.edu.
Additional Resources:
Last updated January 28, 2021