Rodents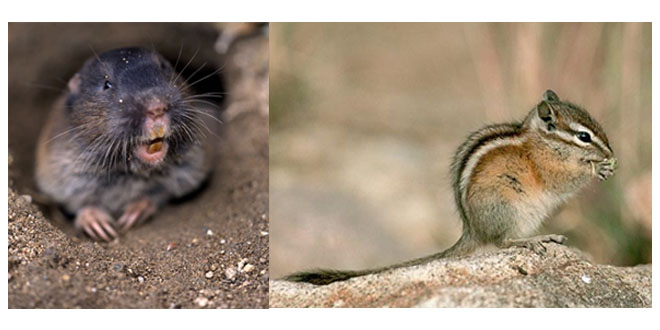 Rodents can damage buildings, contaminate food, and transmit diseases to people. The rodent family includes over 2,000 species of rats, mice , gophers, voles, beavers and more. They're also adaptable, capable of learning by trial and error. As a result, people who need to control them have always struggled to "build a better mouse-trap."
Control tips:
It's important to know which species of rodent you're dealing with; they have different habits and preferences.
To identify your rodent, choose a link below, or try contacting your local Cooperative Extension Service.
If you have holes or digging evidence in the yard, use the guides linked below to learn more.
Food isn't the only thing rodents are attracted to. Remove nesting materials, water sources, and travel pathways to discourage rodents.
Reduce clutter inside and outside to discourage rodents. Neatly kept homes and lawns are less attractive to some rodents.
Experts recommend an IPM approach to control rodents. Try prevention, sanitation and exclusion, and use rodenticides only as a last resort.
If you have questions about this, or any pesticide-related topic, please call NPIC at 1-800-858-7378 (8:00am - 12:00pm PST), or email us at npic@ace.orst.edu.
Additional Resources:
Information on Specifics Types of Rodents:
Information on Similar Species:
Last updated August 24, 2016