As of 2011, NPIC stopped creating technical pesticide fact sheets. The old collection of technical fact sheets will remain available in this archive, but they may contain out-of-date material. NPIC no longer has the capacity to consistently update them. To visit our general fact sheets, click here. For up-to-date technical fact sheets, please visit the Environmental Protection Agency's webpage.
Molecular Structure -
Diazinon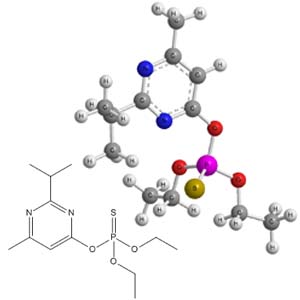 Laboratory Testing: Before pesticides are registered by the U.S. EPA, they must undergo laboratory testing for short-term (acute) and long-term (chronic) health effects. Laboratory animals are purposely given high enough doses to cause toxic effects. These tests help scientists judge how these chemicals might affect humans, domestic animals, and wildlife in cases of overexposure.
Diazinon is the common name for a synthetic organophosphate pesticide first registered in the United States in 1956. Diazinon is used as an insecticide, acaricide, and nematicide.1
The diazinon Chemical Abstracts Service (CAS) registry number is 333-41-5. The CAS name for diazinon is O, O-diethyl O-[6- methyl-2-(1-methylethyl)-4-pyrimidinyl] phosphorothioate and the International Union of Pure and Applied Chemistry (IUPAC) name is O,O-diethyl O-2-isopropyl-6-methylpyrimidin-4-yl phosphorothioate.1,2 See the text box on Laboratory Testing.
Diazinon is a non-systemic insecticide used in agriculture to control soil and foliage insects and pests on a variety of fruit, vegetable, nut and field crops. Diazinon is also used on non-lactating cattle in an insecticidal ear tag. Prior to the cancellation of all residential uses by 2004, diazinon was used outdoors on lawns and gardens, indoors for fly control and in pet collars designed to control fleas and ticks.7 Uses for individual diazinon products vary widely. Always read and follow the label when applying pesticide products.
Diazinon products are formulated as dusts, granules, liquids, concentrates, microencapsulations, wettable powders, seed dressings and impregnated materials.1
Signal words for products containing diazinon may range from Caution to Danger. The signal word reflects the combined toxicity of the active ingredient and other ingredients in the product. See the pesticide label on the product and refer to the NPIC fact sheets on Signal Words and Inert or "Other" Ingredients.
Diazinon was one of the most widely used insecticides for household and agricultural pest control. In 2000, the United States Environmental Protection Agency (U.S. EPA) announced an agreement with the registrants of diazinon to cancel all residential uses of diazinon. Indoor uses were cancelled in 2002 and outdoor uses in 2004, leaving only agricultural uses for diazinon.7
Current agricultural uses of diazinon are limited to selected crops, and diazinon products (other than cattle ear tags) are regulated as restricted use pesticides.1
To find a list of products containing diazinon which are registered in your state, visit the website http://npic.orst.edu/reg/state_agencies.html select your state then click on the link for "State Products."
Target Organisms
Diazinon is a contact insecticide which kills by altering normal neurotransmission within the nervous system of target organisms.9 Diazinon inhibits the enzyme acetylcholinesterase (AChE), which hydrolyzes the neurotransmitter acetylcholine (ACh) in cholinergic synapses and neuromuscular junctions. This results in abnormal accumulation of ACh in the nervous system.10
Diazinon shares a common mechanism of toxicity with other organophosphate insecticides such as chlorpyrifos, malathion and parathion, thus, diazinon would not be effective against organophosphate-resistant insect populations.9,11
Diazinon is metabolized within organisms to form diazoxon (sometimes referred to as "activation," see metabolism section below), and diazoxon is a more potent cholinesterase (ChE) inhibitor compared to diazinon itself.12
Non-target Organisms
Diazinon toxicity to non-target organisms is similar to the mode of action for target organisms.5 The enzyme AChE, which removes the neurotransmitter ACh, is inhibited by diazinon.5 This inhibition interferes with normal neurotransmission in cholinergic synapses and neuromuscular junctions of the nervous system.13 In wildlife, even slight ChE inhibition has the potential to make animals more susceptible to environmental factors such as predation, which can in turn effect the survival of the organism.9
Non-target organisms can be exposed to diazinon by inhalation, ingestion and/or dermal exposure.1,13
Oral
Diazinon has a low acute oral toxicity in male and female rats. The acute oral LD50 for female rats was 1160 mg/kg and 1340 mg/kg for male rats.13 Other reported LD50 values (in mg/kg) include: 300-850 (rats), 80-135 (mice), 250-355 (guinea pigs), 130 (rabbits), 8 (hens), 3 (pheasants), 3.5 (ducks) and 100 (pigs).2,15 See the text boxes on Toxicity Classification and LD50/LC50.

LD50/LC50: A common measure of acute toxicity is the lethal dose (LD50) or lethal concentration (LC50) that causes death (resulting from a single or limited exposure) in 50 percent of the treated animals. LD50 is generally expressed as the dose in milligrams (mg) of chemical per kilogram (kg) of body weight. LC50 is often expressed as mg of chemical per volume (e.g., liter (L)) of medium (i.e., air or water) the organism is exposed to. Chemicals are considered highly toxic when the LD50/LC50 is small and practically non-toxic when the value is large. However, the LD50/LC50 does not reflect any effects from long-term exposure (i.e., cancer, birth defects or reproductive toxicity) that may occur at levels below those that cause death.

Diazinon causes acute neurotoxicity in rats at sub-lethal oral doses. One neurotoxicity study found a NOAEL of 0.25 mg/kg/ day based on plasma ChE inhibition.1 See the text box on NOAEL, NOEL, LOAEL, and LOEL.
TOXICITY CLASSIFICATION - DIAZINON
High Toxicity
Moderate Toxicity
Low Toxicity
Very Low Toxicity
Acute Oral LD50
Up to and including 50 mg/kg
(≤ 50 mg/kg)
Greater than 50 through 500 mg/kg
(>50-500 mg/kg)
Greater than 500 through 5000 mg/kg
(>500-5000 mg/kg)
Greater than 5000 mg/kg
(>5000 mg/kg)
Inhalation LC50
Up to and including 0.05 mg/L
(≤0.05 mg/L)
Greater than 0.05 through 0.5 mg/L
(>0.05-0.5 mg/L)
Greater than 0.5 through 2.0 mg/L
(>0.5-2.0 mg/L)
Greater than 2.0 mg/L
(>2.0 mg/L)
Dermal LD50
Up to and including 200 mg/kg
(≤200 mg/kg)
Greater than 200 through 2000 mg/kg
(>200-2000 mg/kg)
Greater than 2000 through 5000 mg/kg
(>2000-5000 mg/kg)
Greater than 5000 mg/kg
(>5000 mg/kg)
Primary Eye Irritation
Corrosive (irreversible destruction of ocular tissue) or corneal involvement or irritation persisting for more than 21 days
Corneal involvement or other eye irritation clearing in 8 - 21 days
Corneal involvement or other eye irritation clearing in 7 days or less
Minimal effects clearing in less than 24 hours
Primary Skin Irritation
Corrosive (tissue destruction into the dermis and/or scarring)
Severe irritation at 72 hours (severe erythema or edema)
Moderate irritation at 72 hours (moderate erythema)
Mild or slight irritation at 72 hours (no irritation or erythema)
The highlighted boxes reflect the values in the "Acute Toxicity" section of this fact sheet. Modeled after the U.S. Environmental Protection Agency, Office of Pesticide Programs, Label Review Manual, Chapter 7: Precautionary Labeling. https://www.epa.gov/sites/default/files/2018-04/documents/chap-07-mar-2018.pdf
Dermal
Diazinon is low in toxicity following dermal exposure. The acute dermal LD50 is greater than 2020 mg/kg.1,14
Diazinon is a minimal eye irritant and slight dermal irritant based on tests using rabbits.1
Diazinon is not a skin sensitizer based on tests in guinea pigs.1
Inhalation
Diazinon has very low acute inhalation toxicity in rats. Acute inhalation studies with rats found the LC50 to be greater than 2.33 milligrams per liter over four hours (mg/L/4 hours).1,14
Signs of Toxicity - Animals
Signs of Toxicity - Humans
Animals
Laboratory rats were exposed to diets containing diazinon for 98 weeks at doses up to 12.0 mg/kg/day. The NOAEL based on ChE inhibition was 0.005 mg/kg/day, and the LOAEL was 0.060 mg/kg/day. No other toxic effects were observed in the rats.14 See the text box on NOAEL, NOEL, LOAEL, and LOEL.

NOAEL: No Observable Adverse Effect Level

NOEL: No Observed Effect Level

LOAEL: Lowest Observable Adverse Effect Level

LOEL: Lowest Observed Effect Level

Beagles were fed diets containing diazinon at doses up to 9.1 mg/kg/day for 52 weeks. At the highest doses tested, researchers observed decreases in body weight gain, suppressed appetite and ChE inhibition. The NOAEL for ChE inhibition was 0.0037 mg/kg/day and the LOAEL was 0.0200 mg/kg/day.14
Rhesus monkeys were given diazinon oral doses of 0, 0.1, 1.0 and 10.0 mg/kg body weight for 34 days and then doses were lowered to 0.05, 0.50, and 5.00 mg/kg body weight for the remaining 102 weeks. The highest dose groups showed tremors, and soft stools were noted for the two highest doses. All treatment groups showed slightly decreased weight gain. The NOAEL for the study was 0.5 mg/kg/day based on ChE inhibition.18
Humans
Applicators with extensive occupational exposure to diazinon may have a slight asymptomatic reduction in ChE activity.25 See the text box on Exposure.
Exposure: Effects of diazinon on human health and the environment depend on how much diazinon is present and the length and frequency of exposure. Effects also depend on the health of a person and/or certain environmental factors.
Animals
In order to test diazinon for the potential to cause cancer, researchers fed rats 98% pure diazinon at doses of 20 or 40 milligrams per kilogram body weight per day (mg/kg/day) for 103 weeks. No evidence of carcinogenicity was found.14 In a similar study, researchers exposed mice to daily oral doses of diazinon at 14 and 29 mg/kg/day for 103 weeks and found no evidence of carcinogenicity.14,18
Humans
The U.S. EPA has classified diazinon as "Group D - not classifiable as to human carcinogenicity" based on the lack of evidence of carcinogenicity found in the mice and rat studies listed above.14 See the text box on Cancer.

Cancer: Government agencies in the United States and abroad have developed programs to evaluate the potential for a chemical to cause cancer. Testing guidelines and classification systems vary. To learn more about the meaning of various cancer classification descriptors listed in this fact sheet, please visit the appropriate reference, or call NPIC.

Several case-control studies have suggested possible links between exposure to diazinon and childhood cancers and non- Hodgkin's lymphoma.12 In one study, families who used diazinon in their gardening were found to have an increased incidence of childhood cancers.28 Another study found farmers using organophosphate insecticides, including diazinon, had higher rates of non-Hodgkin's lymphoma compared to non-farmers.29 In both studies however, it was not possible to conclusively attribute the increased cancer risk to diazinon exposure.12,30
Animals
Humans
Studies suggest diazinon can be transferred to developing fetuses based on correlations between personal air sampling devices worn by mothers during pregnancy and maternal and umbilical cord plasma diazinon concentrations.32
No studies were found on the developmental or reproductive effects of diazinon in humans following inhalation, oral or dermal exposure to diazinon.
Absorption
Distribution
Animal tissue studies and autopsy reports of human deaths from diazinon have shown that it is widely and rapidly distributed throughout the body of humans, rats, sheep and cows.10,12
Rats exposed orally to 23 mg/kg diazinon had detectable levels of diazinon in the blood, adipose tissue, muscle, liver and brain. All levels peaked at day 4 except muscle and liver concentrations, which peaked at 12 and 8 days, respectively. Detectable levels were no longer found in any samples after 30 days.12
Much of the absorbed diazinon (89-99%) may be bound to plasma protein. Tissue binding likely also occurs, affecting the time required to clear diazinon from the body.10
Cows treated dermally with diazinon had trace amounts in their milk 24 hours after the application.33
No studies were identified that investigated the distribution of diazinon following inhalation exposure in animals or humans.
Metabolism
Excretion
Soil
Water
Air
Plants
Diazinon applied to soils can be absorbed by plant roots and translocated in plants.33
Diazinon degrades rapidly in leafy vegetables, forage crops, and grass. Half-lives range from 2 to 14 days. Low temperature and high oil content increase the persistence of diazinon in plants.33
Diazinon metabolites in plants include the primary hydrolysis product, pyrimidinol, as well as hydroxypyrimidinol. Diazoxon is also found in plants (and the measured pyrimidinol may result from the hydrolysis of diazoxon rather than diazinon itself).34
Indoor
Concentrations of diazinon were measured as high as 13 μg/m3 in indoor air when diazinon was registered for home use.40 Retail garden store indoor air diazinon levels were measured at 3.400 μg/m3 and pest control company buildings showed concentrations ranging from 0.163 to 0.284 μg/m3.3
Small amounts of diazinon applied outdoors can be carried indoor by air, dust, soil and pets creating the potential for exposure.41
Food Residue
The 2006 United States Department of Agriculture (USDA) Pesticide Data Program (PDP) reports that 8102 samples of food commodities were tested for diazinon residues and 8289 samples were tested for the metabolites of diazinon. Of all the samples tested, diazinon residues were found in 49 samples (0.6% of the samples tested) in the range of 0.003-0.140 ppm, concentrations well below the range of tolerances for those commodities (tolerances ranged from 0.50 to 0.75 ppm). A diazinon metabolite was measured in one spinach sample at 0.005 ppm. No tolerances currently exist for diazinon metabolites on food.42 Almost 600 raw and finished drinking water samples were also analyzed for the presence of diazinon and its oxygenated metabolite; no measurable amount of either was found in any of the samples.42
Birds
Diazinon is very highly toxic to birds, with acute oral LD50 values ranging from 1.44 (mallard duck) to 69.0 mg/kg (brownheaded cow bird).1 Diazinon has been linked to a number of bird kills following outdoor applications.1,9
Mallard ducks show reproductive toxicity as a result of chronic diazinon exposure. Concentrations of 16.3 mg/L in the diet resulted in a reduction in the number hatchlings reaching 14 days of age.5,9
The intermediate degradate diazoxon is also very highly toxic to birds on an acute oral basis. Oxypyrimidine, the terminal degradation product, is practically non-toxic to birds.5,9
Fish and Aquatic Life
Terrestrial Invertebrates
Diazinon is known to be highly toxic to bees and other beneficial insects following acute contact exposure. The acute LD50 for bees is 0.22 μg/bee.1
Diazinon is slightly toxic to the earthworm Eisenia foetida with a reported LC50 of 130 mg/kg of soil.2,18
The acute reference dose (RfD) for diazinon is 0.0025 mg/kg/day.1 The chronic RfD is 0.0002 mg/kg/day.1 See the text box on Reference Dose (RfD).

Reference Dose (RfD): The RfD is an estimate of the quantity of chemical that a person could be exposed to every day for the rest of their life with no appreciable risk of adverse health effects. The reference dose is typically measured in milligrams (mg) of chemical per kilogram (kg) of body weight per day.

U.S. Environmental Protection Agency, Integrated Risk Information System, IRIS Glossary, 2009. https://www.epa.gov/iris/iris-glossary#r

The U.S. EPA has classified diazinon as "Group D - not classifiable as to human carcinogenicity" based on the lack of evidence of carcinogenicity found in mice and rat studies.14 See the text box on Cancer.
The acute Population Adjusted Dose (aPAD) is 0.0025 mg/kg/day.1
The chronic Population Adjusted Dose (cPAD) is 0.0002 mg/kg/day.1
No drinking water standards exist for diazinon. The U.S. EPA has set a lifetime health advisory at 0.001 mg/L for diazinon in drinking water, however this health guidance level is not enforceable.46
The National Institute for Occupational Safety and Health (NIOSH) Recommended Exposure Limit (REL) is 0.1 mg/m3 (timeweighted average).47
Date Reviewed: January 2009
Please cite as: Harper, B.; Luukinen, B.; Gervais, J. A.; Buhl, K.; Stone, D. 2009. Diazinon Technical Fact Sheet; National Pesticide Information Center, Oregon State University Extension Services. http://npic.orst.edu/factsheets/archive/diazinontech.html.