As of 2011, NPIC stopped creating technical pesticide fact sheets. The old collection of technical fact sheets will remain available in this archive, but they may contain out-of-date material. NPIC no longer has the capacity to consistently update them. To visit our general fact sheets, click here. For up-to-date technical fact sheets, please visit the Environmental Protection Agency's webpage.
Molecular Structure -
Malathion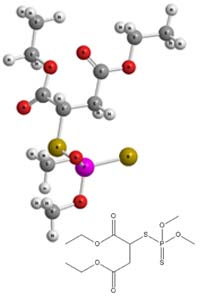 Laboratory Testing: Before pesticides are registered by the U.S. EPA, they must undergo laboratory testing for short-term (acute) and long-term (chronic) health effects. Laboratory animals are purposely given high enough doses to cause toxic effects. These tests help scientists judge how these chemicals might affect humans, domestic animals, and wildlife in cases of overexposure.
Malathion is an organophosphate insecticide. The Chemical Abstracts Service (CAS) registry number is 121-75-5 and the International Union of Pure and Applied Chemistry (IUPAC) name for malathion is O,O-dimethyl dithiophosphate of diethyl mercaptosuccinate.1
Malathion was first registered for use in the United States in 1956 by the United States Department of Agriculture (USDA), and it is now regulated by the United States Environmental Protection Agency (U.S. EPA).1 See the text box on Laboratory Testing.
Malathion is a broad-spectrum insecticide used to control a variety of outdoor insects in both agricultural and residential settings. Malathion is registered for use on food, feed, and ornamental crops and in mosquito, boll weevil and fruit fly eradication programs.1 Uses for individual malathion products vary widely. Always read and follow the label when applying pesticide products.
Malathion is also an ingredient in shampoos regulated by the United States Food and Drug Administration (FDA) to control head lice.1
Signal words for products containing malathion may range from Caution to Danger. The signal word reflects the combined toxicity of the active ingredient and other ingredients in the product. See the pesticide label on the product and refer to the NPIC fact sheets on Signal Words and Inert or "Other" Ingredients.
To find a list of products containing malathion which are registered in your state, visit the website http://npic.orst.edu/reg/state_agencies.html select your state then click on the link for "State Products."
Target Organisms
Non-target Organisms
Oral
Malathion is very low in toxicity when ingested. The acute rat LD50 is 5400 mg/kg in males and 5700 mg/kg in females.1 The low toxicity is due to rapid carboxylesterase enzyme metabolism of malathion.10 See the text boxes on Toxicity Classification and LD50/LC50.
The acute LD50 in mice ranges from 400-4000 mg/kg.16,17
The acute LD50 in rats ranged from 1000 to 12,500 mg/kg.16,17
LD50/LC50: A common measure of acute toxicity is the lethal dose (LD50) or lethal concentration (LC50) that causes death (resulting from a single or limited exposure) in 50 percent of the treated animals. LD50 is generally expressed as the dose in milligrams (mg) of chemical per kilogram (kg) of body weight. LC50 is often expressed as mg of chemical per volume (e.g., liter (L)) of medium (i.e., air or water) the organism is exposed to. Chemicals are considered highly toxic when the LD50/LC50 is small and practically non-toxic when the value is large. However, the LD50/LC50 does not reflect any effects from long-term exposure (i.e., cancer, birth defects or reproductive toxicity) that may occur at levels below those that cause death.
Dermal
Inhalation
Malathion is very low in toxicity when inhaled, with an acute LC50 in rats of >5.2 mg/L.1
Researchers exposed mice to aerosolized technical grade malathion and determined that the LD50 for the rats and mice combined was 6.9 mg/L for inhalation exposure.18
In another study, rabbits and quail were exposed to aerosols of technical grade malathion at concentrations of 6, 34, 65, and 123 mg/m3 via an ultra low volume spraying apparatus.19 Quail showed reduced plasma CHe activity after exposure to concentrations of malathion of 34 mg/m3 or greater, although no quail died and none showed outward signs of toxicity.19
TOXICITY CLASSIFICATION - MALATHION
High Toxicity
Moderate Toxicity
Low Toxicity
Very Low Toxicity
Acute Oral LD50
Up to and including 50 mg/kg
(≤ 50 mg/kg)
Greater than 50 through 500 mg/kg
(>50-500 mg/kg)
Greater than 500 through 5000 mg/kg
(>500-5000 mg/kg)
Greater than 5000 mg/kg
(>5000 mg/kg)
Inhalation LC50
Up to and including 0.05 mg/L
(≤0.05 mg/L)
>Greater than 0.05 through 0.5 mg/L
(>0.05-0.5 mg/L)
Greater than 0.5 through 2.0 mg/L
(>0.5-2.0 mg/L)
Greater than 2.0 mg/L
(>2.0 mg/L)
Dermal LD50
Up to and including 200 mg/kg
(≤200 mg/kg)
Greater than 200 through 2000 mg/kg
(>200-2000 mg/kg)
Greater than 2000 through 5000 mg/kg
(>2000-5000 mg/kg)
Greater than 5000 mg/kg
(>5000 mg/kg)
Primary Eye Irritation
Corrosive (irreversible destruction of ocular tissue) or corneal involvement or irritation persisting for more than 21 days
Corneal involvement or other eye irritation clearing in 8 - 21 days
Corneal involvement or other eye irritation clearing in 7 days or less
Minimal effects clearing in less than 24 hours
Primary Skin Irritation
Corrosive (tissue destruction into the dermis and/or scarring)
Severe irritation at 72 hours (severe erythema or edema)
Moderate irritation at 72 hours (moderate erythema)
Mild or slight irritation at 72 hours (no irritation or erythema)
The highlighted boxes reflect the values in the "Acute Toxicity" section of this fact sheet. Modeled after the U.S. Environmental Protection Agency, Office of Pesticide Programs, Label Review Manual, Chapter 7: Precautionary Labeling. https://www.epa.gov/sites/default/files/2018-04/documents/chap-07-mar-2018.pdf
Signs of Toxicity - Animals
Signs of Toxicity - Humans
Animals
Researchers fed dogs malathion for 1 year at doses of 0, 62.5, 125.0, or 250.0 mg/kg/day. The dogs exhibited plasma and erythrocyte cholinesterase inhibition at all doses but no clinical signs of toxicity. A LOAEL was set at 62.5 mg/kg/day for plasma and erythrocyte ChE inhibition, but no overall ChE NOAEL was established.26 See the text box on NOAEL, NOEL, LOAEL, and LOEL.

NOAEL: No Observable Adverse Effect Level

NOEL: No Observed Effect Level

LOAEL: Lowest Observable Adverse Effect Level

LOEL: Lowest Observed Effect Level

In a 21-day dermal study, scientists exposed rabbits to doses of malathion at 0, 50, 300, or 1000 mg/kg/day for six hours/day, five days/week for three weeks. Scientists detected decreased cholinesterase activity at the two highest doses (300 and 1000 mg/kg/day) but no clinical signs of ChE inhibition. One rabbit died at the highest dose (1000 mg/kg/day). The NOAEL for cholinesterase inhibition was 50 mg/kg/day.26
In a 13-week inhalation study, investigators exposed male and female rats to malathion at concentrations of 0, 0.10, 0.45, or 2.01 mg/L for six hours/day, five days/week for 13 weeks. Investigators noted nasal and larynx lesions at the greatest dose and measured ChE inhibition at all doses. In addition, signs of cholinesterase inhibition in some animals included excess salivation, reduced grooming, and red stains around the urogenital areas. The systemic toxicity LOAEL was 0.1 mg/kg/day but the NOAEL was not established.14
Researchers administered malathion at doses of up to 359 mg/kg/day in the diets of male rats or 415 mg/kg/day in the diets of female rats for two years. Kidney weight gain was noted. The NOAEL for male rats was 29 mg/kg/day and was 35 mg/kg/day for females.27
Humans
In an experimental study, five volunteers ingested malathion at up to 16 mg/day (0.23 mg/kg/person/day) for 47 days and displayed no significant reduction in cholinesterase activity. When consuming 24 mg/day (0.34 mg/kg/day) for 56 days, five volunteers displayed reduced cholinesterase activity two weeks after the dosing began. A maximum cholinesterase inhibition of 25% was observed three weeks after the end of the dosing period.20,28 See the text box on Exposure.

Exposure: Effects of malathion on human health and the environment depend on how much malathion is present and the length and frequency of exposure. Effects also depend on the health of a person and/or certain environmental factors.

Four male volunteers per treatment inhaled malathion products at 5.3, 21.0, or 85.0 mg/m3 for one hour per exposure, two exposures per day for 42 consecutive days. The test subjects reported nasal and eye irritation at the highest dose during the first 5-10 minutes of each exposure. The authors concluded that no effects on cholinesterase activity occurred, but noted that one subject in each of the two highest dose groups exhibited reduced plasma cholinesterase activity.20,29
Researchers evaluated the health effects associated with treating areas with malathion and diazinon via ground application, followed by aerial malathion treatments for the control of the Mediterranean fruit fly (Ceratitis capitata). The applications occurred from April 1998 to September 1998 in an area containing approximately 132,000 people and covering 128 square miles. A total of 6285 gallons of malathion was applied during the 5 month period. There were 230 reports of pesticide-related illness, and researchers classified 34 as probable and 89 as possible cases. The most commonly reported signs and symptoms were associated with the respiratory, gastrointestinal, and neurological systems.30
Animals
Evidence of the carcinogenicity of malathion in animals is mixed. Several studies have been conducted with rats and mice to determine whether malathion has the potential to cause cancer with variable results.
In a study involving long-term dietary exposures to malathion, researchers observed an increased incidence of liver and nasal/oral tumors in rats and increased incidence of liver tumors in mice.14
In an 80-week dietary study in rats, researchers administered malathion at doses of 0, 359, and 622 mg/kg/day. Investigators did not find statistically significant evidence of carcinogenicity.37
Researchers administered dietary doses of 0, 166, or 332 mg/kg/day to rats for 103 weeks. Investigators concluded that there was no evidence that malathion was carcinogenic to rats.38
Researchers conducted an 80-week dietary study in mice with doses of 0, 1490, or 2980 mg/kg/day of malathion. They found no evidence of an association between tumor incidence and exposure to malathion.37
In a two-year dietary study, researchers administered oral doses of 2, 359, 739, or 868 mg/kg/day to rats. They found a statistically significant increase in liver adenomas and carcinomas in females at the highest dose tested.27
In a bioassay in mice, researchers administered malathion at doses ranging from 17.4 to 3448.0 mg/kg/day. They concluded that there was evidence of carcinogenicity at doses of 1476 and 2978 mg/kg/day in males and 1707 and 3448 mg/kg/day in females based on incidences of hepatocellular adenomas and liver carcinomas.39 Information on specific dose levels was not available.
Humans
Animals
Humans
No data were found on developmental or reproductive effects of malathion in humans.
Absorption
Distribution
Researchers administered malathion orally to one group of male rats at 28 mg/kg, and dermally to another group at 41 mg/ kg. In both cases, more than 90% of the dose was excreted in urine within 24 hours. The remaining malathion was found in feces, blood, intestines, liver, and kidneys.47
Researchers applied malathion to rats either intravenously, orally or dermally. Thirty minutes after intravenous exposure most of the malathion was in the liver, kidneys, small intestine, urinary tract and lungs. Four hours after oral administration, 75% of the malathion was still in the stomach, while 8% was in the small intestines, and 7% in the saliva. Eight hours after dermal application, 28% of the dose was still on the applied site, 29% had spread to untreated skin, and 23% had been absorbed and travelled to the small intestine and urinary bladder cavity.48
Based on organ weight changes during a two-week inhalation study in rats, other target organs for malathion are the liver and kidney.26
Metabolism
Excretion
There are tests available to determine whether exposure to malathion has occurred. Metabolic products can be measured in urine, if the test is conducted within a few days of exposure.20 However, the presence of malathion metabolites in urine does not necessarily indicate an exposure level great enough to cause adverse health effects.52 In addition, presence of metabolites may also result from exposure to the metabolites through diet or from the environment, not from direct exposure to the parent compound.51
A blood test may be taken to measure cholinesterase levels in the blood relative to a person's normal level. This type of test is not specific to malathion, and can be used to determine exposure to any cholinesterase inhibitor. However, normal baseline levels of cholinesterase vary widely and can also be suppressed by other factors such as disease.9
In animals, whole blood, stomach contents, hair, or vomitus may be evaluated by submitting samples for laboratory screening for AChE activity. Reduced AChE activity may indicate that exposure to malathion or other organophosphate or carbamate pesticides may have occurred.21
Soil
The "half-life" is the time required for half of the compound to break down in the environment.
1 half-life = 50% remaining
2 half-lives = 25% remaining
3 half-lives = 12% remaining
4 half-lives = 6% remaining
5 half-lives = 3% remaining
Half-lives can vary widely based on environmental factors. The amount of chemical remaining after a half-life will always depend on the amount of the chemical originally applied. It should be noted that some chemicals may degrade into compounds of toxicological significance.
Water
Air
Plants
Indoor
No studies were found on the indoor fate of malathion.
Food Residue
Birds
Malathion is slightly to moderately toxic to birds.1
The 5-day dietary LC50 for bobwhite quail (Colinus virginianus) is 3500 mg/kg and 4230 mg/kg for ring-necked pheasants (Phasianus colchicus).3
Studies of wild bird populations following use of malathion in grasshopper control programs concluded that there were either no effects or inconsistent effects of treatment on reproduction and survival.77,78 Bird densities were lower several weeks after treatment in one study, as were grasshopper densities; the researchers concluded that reduced food availability was the most plausible reason for the declines in bird densities.78
Fish and Aquatic Life
Terrestrial Invertebrates
Malathion is highly toxic to bees, whether from direct contact, contact with foliar residues, or contact with residues on pollen. The honey bee topical LD50 is 0.71 μg/bee.3
Malathion is toxic to other beneficial insect species, and very highly toxic to aquatic invertebrates.1,3
The LC50 for worms is 613 mg/kg of soil.3
The U.S. EPA has established an acute Reference Dose (RfD) of 0.14 mg/kg/day for the general population based on a study comparing ChE levels in rats.14 See the text box on Reference Dose (RfD).

Reference Dose (RfD): The RfD is an estimate of the quantity of chemical that a person could be exposed to every day for the rest of their life with no appreciable risk of adverse health effects. The reference dose is typically measured in milligrams (mg) of chemical per kilogram (kg) of body weight per day.

U.S. Environmental Protection Agency, Integrated Risk Information System, IRIS Glossary, 2009. https://www.epa.gov/iris/iris-glossary#r

The U.S. EPA established a benchmark dose level of 7.1 mg/kg based on studies of rats and used this to determine the chronic RfD of 0.07 mg/kg/day.14
The U.S. EPA classifies malathion as having "suggestive evidence of carcinogenicity".14 See the text box on Cancer.
Based on a 2-year dietary study in which rats showed inhibition of ChE activity, malathion has a chronic Minimum Risk Level (MRL) of 0.02 mg/kg/day.27
The U.S. EPA has established an acute population adjusted dose (aPAD) of 0.14 mg/kg/day and a chronic population adjusted dose (cPAD) of 0.07 mg/kg/day.1
The workplace permissible exposure limit (PEL) for malathion established by the Occupational Safety and Health Administration (OSHA) is 15 mg/m3, for an 8-hour workday, 40 hours per week.20
The workplace recommended exposure limit (REL) established by the National Institute for Occupational Safety and Health (NIOSH) is 10 mg/m3, for a 10-hour workday, 40 hours per week.20
Date Reviewed: August 2009
Please cite as: Gervais, J. A.; Luukinen, B.; Buhl, K.; Stone, D. 2009. Malathion Technical Fact Sheet; National Pesticide Information Center, Oregon State University Extension Services. http://npic.orst.edu/factsheets/archive/malatech.html.