As of 2011, NPIC stopped creating technical pesticide fact sheets. The old collection of technical fact sheets will remain available in this archive, but they may contain out-of-date material. NPIC no longer has the capacity to consistently update them. To visit our general fact sheets, click here. For up-to-date technical fact sheets, please visit the Environmental Protection Agency's webpage.
Chlorpyrifos is a broad-spectrum, chlorinated organophosphate (OP) insecticide, acaricide and nematicide. Chlorpyrifos is the common name for the chemical 0,0-diethyl 0-(3,5,6-trichloro-2-pyridinyl)-phosphorothioate. The Chemical Abstracts Service (CAS) registry number is 2921-88-2.1

Laboratory Testing: Before pesticides are registered by the U.S. EPA, they must undergo laboratory testing for short-term (acute) and long-term (chronic) health effects. Laboratory animals are purposely given high enough doses to cause toxic effects. These tests help scientists judge how these chemicals might affect humans, domestic animals, and wildlife in cases of overexposure.

Chlorpyrifos was first registered for use in the United States in 1965.1 The United States Environmental Protection Agency (U.S. EPA) completed the OP cumulative risk assessment in July 2006. At that time, the reregistration eligibility decision for chlorpyrifos was considered complete.1 See the text box on Laboratory Testing.
Molecular Structure -
Chlorpyrifos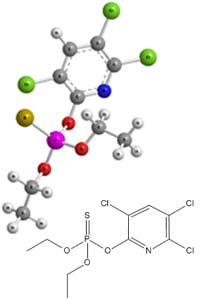 Chlorpyrifos is used on agricultural food and feed crops, cattle ear tags, golf course turf, industrial plants and vehicles, non-structural wood treatments including processed wood products, fence posts and utility poles, and to control public health pests such as mosquitoes and fire ants. Chlorpyrifos is registered for indoor residential use only in the form of containerized baits.1 Uses for individual products containing chlorpyrifos vary widely. Always read and follow the label when applying pesticide products.
Chlorpyrifos is a non-systemic insecticide designed to be effective by direct contact, ingestion, and inhalation.2
Signal words for products containing chlorpyrifos may range from Caution to Danger. The signal word reflects the combined toxicity of the active ingredient and other ingredients in the product. See the pesticide label on the product and refer to the NPIC fact sheets on Signal Words and Inert or "Other" Ingredients.
To find a list of products containing chlorpyrifos which are registered in your state, visit the website http://npic.orst.edu/reg/state_agencies.html select your state then click on the link for "State Products."
Target Organisms
Chlorpyrifos is a broad-spectrum insecticide which kills insects upon contact by affecting the normal function of the nervous system.4 Chlorpyrifos affects the nervous system by inhibiting the breakdown of acetylcholine (ACh), a neurotransmitter.5 When insects are exposed, chlorpyrifos binds to the active site of the cholinesterase (ChE) enzyme, which prevents breakdown of ACh in the synaptic cleft.6 The resulting accumulation of ACh in the synaptic cleft causes overstimulation of the neuronal cells, which leads to neurotoxicity and eventually death.6,7
Chlorpyrifos shares a common mechanism of toxicity with other organophosphate insecticides such as malathion and parathion, thus, chlorpyrifos would not be effective against organophosphate-resistant insect populations.
Non-target Organisms
Oral
Dermal
Chlorpyrifos absorbs more easily through rat skin than human skin. Chlorpyrifos is not readily absorbed through human skin.22,23
Skin-applied chlorpyrifos has low toxicity based on animal studies. The acute dermal LD50 for rabbits is >5,000 mg/kg and >2,000 mg/kg for rats,2 although an acute dermal LD50 of 202 mg/kg has also been reported for rats.1

TOXICITY CLASSIFICATION - CHLORPYRIFOS
High Toxicity
Moderate Toxicity
Low Toxicity
Very Low Toxicity
Acute Oral LD50
Up to and including 50 mg/kg
(≤ 50 mg/kg)
Greater than 50 through 500 mg/kg
(>50-500 mg/kg)
Greater than 500 through 5000 mg/kg
(>500-5000 mg/kg)
Greater than 5000 mg/kg
(>5000 mg/kg)
Inhalation LC50
Up to and including 0.05 mg/L
(≤0.05 mg/L)
Greater than 0.05 through 0.5 mg/L
(>0.05-0.5 mg/L)
Greater than 0.5 through 2.0 mg/L
(>0.5-2.0 mg/L)
Greater than 2.0 mg/L
(>2.0 mg/L)
Dermal LD50
Up to and including 200 mg/kg
(≤200 mg/kg)
Greater than 200 through 2000 mg/kg
(>200-2000 mg/kg)
Greater than 2000 through 5000 mg/kg
(>2000-5000 mg/kg)
Greater than 5000 mg/kg
(>5000 mg/kg)
Primary Eye Irritation
Corrosive (irreversible destruction of ocular tissue) or corneal involvement or irritation persisting for more than 21 days
Corneal involvement or other eye irritation clearing in 8 - 21 days
Corneal involvement or other eye irritation clearing in 7 days or less
Minimal effects clearing in less than 24 hours
Primary Skin Irritation
Corrosive (tissue destruction into the dermis and/or scarring)
Severe irritation at 72 hours (severe erythema or edema)
Moderate irritation at 72 hours (moderate erythema)
Mild or slight irritation at 72 hours (no irritation or erythema)
The highlighted boxes reflect the values in the "Acute Toxicity" section of this fact sheet. Modeled after the U.S. Environmental Protection Agency, Office of Pesticide Programs, Label Review Manual, Chapter 7: Precautionary Labeling. https://www.epa.gov/sites/default/files/2018-04/documents/chap-07-mar-2018.pdf

Chlorpyrifos is a mild skin and moderate eye irritant based on rabbit studies. Chlorpyrifos is not a skin sensitizer according to results of tests on guinea pigs.2

NOAEL: No Observable Adverse Effect Level

NOEL: No Observed Effect Level

LOAEL: Lowest Observable Adverse Effect Level

LOEL: Lowest Observed Effect Level

The acute dermal NOAEL for chlorpyrifos is 5 mg/kg/day. The NOAEL is based on a 21-day dermal study where rats were exposed to 10 mg/kg/day. In this study, researchers observed 45% plasma ChE inhibition and 16% red blood cell ChE inhibition after four days of exposure to the LOAEL (10 mg/kg/day).5 See the text box on NOAEL, NOEL, LOAEL, and LOEL.
Inhalation
Chlorpyrifos is considered moderately toxic by inhalation. The 4- to 6-hour LC50 is >0.2 mg/L in rats.2,11
The NOAEL for short- and intermediate-term inhalation is 0.1 mg/kg/day. The NOAEL is based on two separate 90-day studies of rats where researchers observed no effect at the highest vapor concentration tested.5
Signs of Toxicity - Animals
Signs of Toxicity - Humans
Animals
Humans
Chlorpyrifos is included in the 2007 draft list of initial chemicals for screening under the U.S. EPA Endocrine Disruptor Screening Program (EDSP). The list of chemicals was generated based on exposure potential, not based on whether the pesticide is a known or likely potential cause of endocrine effects.39
No data were found regarding possible effects of chlorpyrifos on endocrine systems.
Animals
Humans
In 1993, chlorpyrifos was classified in Group E, evidence of non-carcinogenicity for humans, by the U.S. EPA.40 See the text box on Cancer.
No human data were found regarding carcinogenic effects of chlorpyrifos.
Cancer: Government agencies in the United States and abroad have developed programs to evaluate the potential for a chemical to cause cancer. Testing guidelines and classification systems vary. To learn more about the meaning of various cancer classification descriptors listed in this fact sheet, please visit the appropriate reference, or call NPIC.
Animals
Humans
A prospective cohort study evaluated the relationship between chlorpyrifos levels in both umbilical cord plasma and mother's plasma at the time of birth, and impacts on neurological and behavioral development of children exposed prenatally. The study included 254 children and assessed cognitive and motor development at 12, 24, and 36 months. Researchers found that children and mothers with detected chlorpyrifos levels at or above 6.17 pg/g plasma were significantly more likely to experience adverse effects, including developmental delays and disorders, attention problems, and attention-deficit/ hyperactivity disorder at three years of age compared to children and/or mothers with levels lower than 6.17 pg/g.46
Absorption
Distribution
Chlorpyrifos is distributed throughout the body following exposure.9
Although some chlorpyrifos may be stored in fat tissue, bioaccumulation is not expected to be significant due to an elimination half-life in humans of less than three days.11
Metabolism
Excretion
The "half-life" is the time required for half of the compound to break down in the environment.
1 half-life = 50% remaining
2 half-lives = 25% remaining
3 half-lives = 12% remaining
4 half-lives = 6% remaining
5 half-lives = 3% remaining
Half-lives can vary widely based on environmental factors. The amount of chemical remaining after a half-life will always depend on the amount of the chemical originally applied. It should be noted that some chemicals may degrade into compounds of toxicological significance.
Soil
Water
Air
Researchers monitored concentrations of chlorpyrifos in outdoor air following ground application of chlorpyrifos in an agricultural setting. Air was sampled for chlorpyrifos and chlorpyrifos-oxon over a four week period during late spring, 24 hours a day, five days per week. Monitoring stations were located within three miles of average daily chlorpyrifos applications of 7.7 pounds per square mile per day. Median air concentrations of chlorpyrifos and chlorpyrifos-oxon were measured at 33 ng/m3 and 22 ng/m3, respectively.55
Chlorpyrifos reacts with photochemically-produced hydroxyl radicals in the atmosphere and degrades to chlorpyrifosoxon. An atmospheric vapor half-life of 4.2 hours has been estimated for this reaction.56 In one study, researchers estimated an outdoor air residence time of 4 and 11 hours for chlorpyrifos and chlorpyrifos oxon, respectively. However, these calculations are based on approximate hydroxyl radical concentrations in a specific geographical area.57
Plants
Indoor
Food Residue
The United States Department of Agriculture (USDA) Pesticide Data Program collects data on pesticide residues in foods and compiles an annual report of the findings. The 2007 annual summary reported 9734 samples of fruit and vegetable commodities tested for chlorpyrifos residues. Chlorpyrifos was detected in 339 (3.48%) of these samples.62
Chlorpyrifos residues were found in 18.0% of peaches tested (100 detections), in 15.8% of nectarines tested (89 detections), in 6.8% of broccoli tested (50 detections) and in 5.2% of kale greens (20 detections). Chlorpyrifos residues were also monitored in almonds (46% of samples tested, 166 detections) and corn grain (30% of samples tested, 195 detections).62
Chlorpyrifos was detected at levels exceeding the U.S. EPA tolerance in one sample each of collard greens (353 samples, 10 with detectable residues) and summer squash (742 samples, 5 with detectable residues). In collard greens, residues were detected in one sample at 6.3 ppm (tolerance of 2.0 ppm). In summer squash, residues were detected in one sample at 0.33 ppm (tolerance 0.10 ppm).62
Birds
Fish and Aquatic Life
Terrestrial Invertebrates
The acute Reference Dose (RfD) for chlorpyrifos is 5 x 10-3 mg/kg/day.1 See the text box on Reference Dose (RfD).

Reference Dose (RfD): The RfD is an estimate of the quantity of chemical that a person could be exposed to every day for the rest of their life with no appreciable risk of adverse health effects. The reference dose is typically measured in milligrams (mg) of chemical per kilogram (kg) of body weight per day.

U.S. Environmental Protection Agency, Integrated Risk Information System, IRIS Glossary, 2009. https://www.epa.gov/iris/iris-glossary#r

The chronic RfD for chlorpyrifos is 3 x 10-4 mg/kg/day.1 The chronic population adjusted dose (cPAD) is 3 x 10-5 mg/kg/day for sensitive subpopulations.1
A Food Quality Protection Act (FQPA) factor of 10 is applied to the acute RfD to derive an acute population adjusted dose (aPAD) which accounts for increased sensitivities in infants, children and females ages 13-50. The aPAD for children and females ages 13-50 is 5 x 10-4 mg/kg/day.1
Chlorpyrifos was classified as Group E, evidence of non-carcinogenicity for humans, by the U.S. EPA, in 1993.40 See the text box on Cancer.
The acute drinking water level of concern (DWLOC) for the general U.S. population is 166 ppb, the chronic DWLOC is 10 ppb. The acute DWLOC for all infants less than one year of age is 2.4 ppb; the chronic is 0.2 ppb. The acute DWLOC for children ages 1-6 years is 0.9 ppb; the chronic is 0.15 ppb. The acute DWLOC for females ages 13-50 years is 9 ppb; the chronic is 0.72 ppb.1
No drinking water standard exists for chlorpyrifos. However, the U.S. EPA has set a one-day and 10-day health advisory for children at 0.03 mg/L. The drinking water RfD is 3 x 10-4 mg/kg/day. The drinking water equivalent level is 0.01 mg/L and a lifetime health advisory is set at 2 x 10-3 mg/L.64
Pesticide exposure reporting laws vary by state. For example, some states may require mandatory medical monitoring with laboratory reporting for workers with blood cholinesterase levels below the normal range.65 Reporting rules also vary by state regarding the individual responsible for reporting the results (e.g. the physician ordering the test, the laboratory responsible for sample collection, or the laboratory conducting the test).65 See the NPIC medical case profile on Pesticide Incident Reporting.
The National Institute for Occupational Safety and Health (NIOSH) occupational exposure Threshold Limit Value (TLV) for inhalable vapor or aerosol is 0.1 mg/m3.51
The NIOSH Recommended Exposure Limit (REL) is 0.2 mg/m3, with a short-term skin exposure limit (15 minutes) of 0.6 mg/m3.51
Date Reviewed: August 2009
Please cite as: Christensen, K.; Harper, B.; Luukinen, B.; Buhl, K.; Stone, D. 2009. Chlorpyrifos Technical Fact Sheet; National Pesticide Information Center, Oregon State University Extension Services. http://npic.orst.edu/factsheets/archive/chlorptech.html.