Problem Wildlife in the Garden and Yard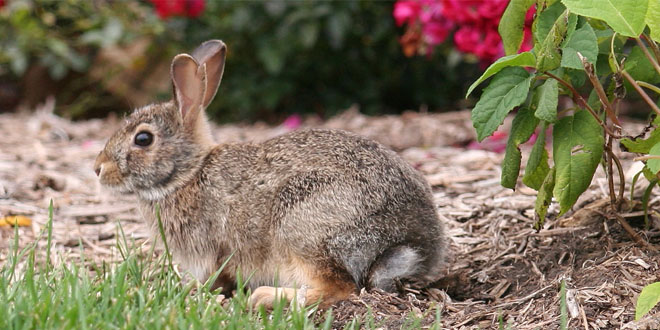 Although it is often fun to watch a deer or a wild rabbit in the yard, wildlife can cause problems if they stray into gardens or landscaped areas. Wild animals can damage plants and other property, carry disease, and bring disease-carrying fleas and ticks into the yard or home. Animals are attracted to gardens and yards because they provide food, water, or shelter. Keeping unwelcome wildlife at a distance may require changes to make your yard or garden less attractive to them.
The following tips and resources are intended to help you make informed decisions about controlling nuisance wildlife in the yard and garden, while reducing any risks to people, pets, and non-target wildlife.
Some tips to keep in mind:
Know your pest! If you properly identify the species, you can learn about its habits, preferences and needs to develop the best control strategies. Your local Cooperative Extension Service or state wildlife agency can help.
Keep your garbage in a secure container that cannot be opened by animals.
Bird feeders and suet blocks may attract raccoons, possums, or even bears. Store bird-seed in a secure place and hang your feeders in locations where only birds can reach them.
Bird-baths, fountains or pet water dishes may draw wildlife pests, especially where water is scarce. Placing bird-baths where wildlife cannot reach them or providing water away from the home can help discourage problem wildlife.
Fencing, plant choice and landscape design can help make your yard and garden less attractive to nuisance wildlife. Your Cooperative Extension Service or Master Gardener may have suggestions that are appropriate in your region.
If you choose to use a wildlife repellent, make sure the product can be used where and how you want to use it. Repellents for cats and dogs may be very different from those meant to work on deer and rabbits.
Always use pesticides, including animal repellents, only according to the label instructions. Mothballs are not animal repellents and they are not meant to be used outside.
If you have questions about this, or any pesticide-related topic, please call NPIC at 1-800-858-7378 (8:00am - 12:00pm PST), or email us at npic@ace.orst.edu.
Information on Specific Types of Wildlife
Additional Resources on Controlling Wildlife in the Yard or Garden:
---
Deer
---
Gophers
---
Moles
---
Opossums
---
Rabbits
---
Raccoons
---
Skunks
---
Tree Squirrels
---
Voles
---
Woodchucks
---
Last updated April 1, 2015