Snakes In and Around the House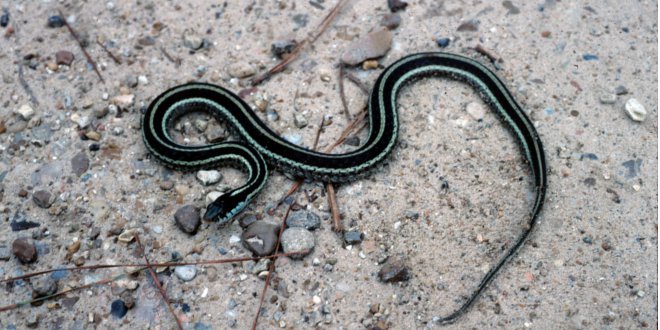 Snakes are generally shy animals who want nothing to do with people. They can be beneficial because they eat mice, slugs, grubs, insects, and other pests and they can be food for other wildlife such as hawks. Although most species of snakes in North America are harmless, there are some venomous species that can pose risks to people and pets. The National Pesticide Information Center collected the resources below to help you find ways to keep snakes away without posing unnecessary risks to you, your family, pets, or the environment.
Topics on this page:
Control tips:
If you have questions about controlling snakes, or any pesticide-related topic, please call NPIC at 1-800-858-7378 (8:00am - 12:00pm PST), or email at npic@ace.orst.edu.
---
Snake Identification
Because some snakes can be dangerous, don't handle any snake if you are not absolutely sure what type it is. If you don't know what type of snake you are dealing with, treat the snake as if it might be venomous. Don't handle it and keep children and pets away. Snakes are most likely to bite when harassed. Consider taking a photograph of the snake if possible to aid in identification. There are many resources available to help you identify a snake, including your local cooperative extension office, and state wildlife agency. You can also look up the snake in a field guide, or search the internet for information on snakes in your area. Here are some examples of online snake identification resources:
---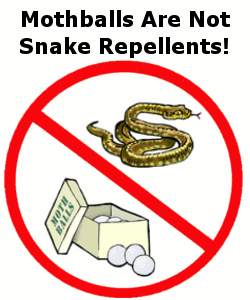 Controlling Snakes In and Around the Home
---
Use of Snake Repellents
As with any pesticide, make sure you read the entire label before using any products to repel snakes. Mothballs are commonly thought to repel snakes, but they are not intended to be used this way and have little effect on snakes. See our web page on the proper use of mothballs. See the link below for more information on snake repellents.
---
How to Build a Snake-Proof Fence
Last updated May 09, 2016