Mice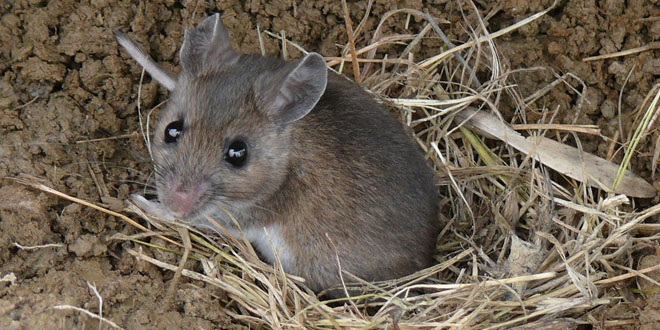 Mice can live in many types of habitats, including man-made structures. Mouse infestations can be more common in homes than rat infestations. Since they are mostly active at night, mice may be difficult to see. Signs of chewing, nesting or droppings can help identify a mouse problem. Although they only live for 1-1 ½ years, mice reproduce quickly. Prevention and early detection can keep damage from getting out of control.
Prevention tips:
Reduce clutter inside and out. Clutter may allow mouse activity to go unnoticed.
Check unused cars for evidence of mice. Mice can damage wires and other parts.
Mice are excellent climbers. Trim or remove dense vegetation, including tree limbs, near gardens or buildings.
Exclude mice by sealing cracks and crevices larger than a quarter inch.
Install door sweeps and weather stripping to keep mice from crawling under doors.
Remove materials mice may use for nesting or shelter, including cardboard boxes and newspapers.
Control tips:
Identify your rodent first. Mice may look similar to young rats but certain features can tell them apart. Try contacting your local Cooperative Extension Service.
Unlike rats, mice may not need a source of water if their food is moist enough.
Check for mouse nests near evidence of chewing. Mice usually stay within 30 feet of their nests.
Mice create brown or gray smudges on walls and other surfaces where they travel. These marks can identify heavily used paths or entrances.
Mice have teeth made for gnawing. Store unrefrigerated food, pet food, and birdseed in jars, tin boxes, or durable plastic. Large infestations may require a combination of methods, including the use of traps or rodenticides.
Use small amounts of bait at many trap stations. Use a variety of food types to find what bait works best.
Consider hiring a professional. There's an art to managing mice.
If you choose to use a rodenticide bait, always read and follow label directions. It's the law. Try a lower toxicity product first.
If you have questions about this, or any pesticide-related topic, please call NPIC at 1-800-858-7378 (8:00am - 12:00pm PST), or email us at npic@ace.orst.edu.
Additional Resources:
Videos:
Information on Specifics Types of Mice:
House Mouse
Deer Mice and Similar Species
Last updated May 19, 2015