As of 2011, NPIC stopped creating technical pesticide fact sheets. The old collection of technical fact sheets will remain available in this archive, but they may contain out-of-date material. NPIC no longer has the capacity to consistently update them. To visit our general fact sheets, click here. For up-to-date technical fact sheets, please visit the Environmental Protection Agency's webpage.
Molecular Structure -
Zinc Phosphide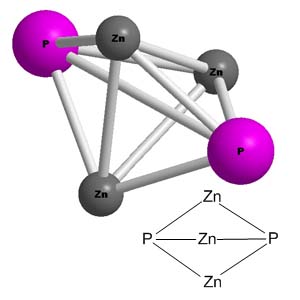 Laboratory Testing: Before pesticides are registered by the U.S. EPA, they must undergo laboratory testing for short-term (acute) and long-term (chronic) health effects. Laboratory animals are purposely given high enough doses to cause toxic effects. These tests help scientists judge how these chemicals might affect humans, domestic animals, and wildlife in cases of overexposure.
Zinc phosphide is a gray-black powder with an odor similar to garlic.1 Phosphine is a colorless and flammable gas. The odor of industrial or technical grade phosphine gas is similar to garlic or rotting fish, but phosphine in its pure form is odorless.1,8 Humans can begin to detect phosphine at 2 ppm, although toxicity can occur at lower concentrations.9
Vapor pressure: When dry, zinc phosphide has negligible vapor pressure.1 The vapor pressure of phosphine is 2.93 x 104 mmHg at 25 °C.8
Octanol-Water Partition Coefficient (log Kow)10: Not found. Zinc phosphide is not soluble in alcohol or water.
Henry's constant8: Zinc phosphide, none found; phosphine, 2.44 x 10-2 atm·m3/mol.
Molecular weight (g/mol)8: Zinc phosphide, 258.12 g/mol; phosphine, 34 g/mol.
Solubility (water): Zinc phosphide is practically insoluble in water1 and insoluble in alcohol.10 Phosphine is considered slightly soluble in water.8
Soil Sorption Coefficient (Koc): Not found.
Rodenticides containing zinc phosphide are used in both agricultural and residential settings. Formulations include bait pellets, granules, dust, and tracking powders.2 Uses for individual products containing zinc phosphide vary widely. Always read and follow the label when applying pesticide products.
Signal words for products containing zinc phosphide may range from Caution to Danger. The signal word reflects the combined toxicity of the active ingredient and other ingredients in the product. See the pesticide label on the product and refer to the NPIC fact sheets on Signal Words and Inert or "Other" Ingredients.
To find a list of products containing zinc phosphide which are registered in your state, visit the website http://npic.orst.edu/reg/state_agencies.html select your state then click on the link for "State Products."
Target Organisms
Non-target Organisms
TOXICITY CLASSIFICATION - ZINC PHOSPHIDE/PHOSPHINE
High Toxicity
Moderate Toxicity
Low Toxicity
Very Low Toxicity
Acute Oral LD50
Up to and including 50 mg/kg
(≤ 50 mg/kg)
Greater than 50 through 500 mg/kg
(>50-500 mg/kg)
Greater than 500 through 5000 mg/kg
(>500-5000 mg/kg)
Greater than 5000 mg/kg
(>5000 mg/kg)
Inhalation LC50
Up to and including 0.05 mg/L
(≤0.05 mg/L)
Greater than 0.05 through 0.5 mg/L
(>0.05-0.5 mg/L)
Greater than 0.5 through 2.0 mg/L
(>0.5-2.0 mg/L)
Greater than 2.0 mg/L
(>2.0 mg/L)
Dermal LD50
Up to and including 200 mg/kg
(≤200 mg/kg)
Greater than 200 through 2000 mg/kg
(>200-2000 mg/kg)
Greater than 2000 through 5000 mg/kg
(>2000-5000 mg/kg)
Greater than 5000 mg/kg
(>5000 mg/kg)
Primary Eye Irritation
Corrosive (irreversible destruction of ocular tissue) or corneal involvement or irritation persisting for more than 21 days
Corneal involvement or other eye irritation clearing in 8 - 21 days
Corneal involvement or other eye irritation clearing in 7 days or less
Minimal effects clearing in less than 24 hours
Primary Skin Irritation
Corrosive (tissue destruction into the dermis and/or scarring)
Severe irritation at 72 hours (severe erythema or edema)
Moderate irritation at 72 hours (moderate erythema)
Mild or slight irritation at 72 hours (no irritation or erythema)
The highlighted boxes reflect the values in the "Acute Toxicity" section of this fact sheet. Modeled after the U.S. Environmental Protection Agency, Office of Pesticide Programs, Label Review Manual, Chapter 7: Precautionary Labeling. https://www.epa.gov/sites/default/files/2018-04/documents/chap-07-mar-2018.pdf
Oral
The oral LD50 for rats was determined to be 21 mg/kg, with a range of 12-35 mg/kg in one study, and 43-56 mg/kg in another.20,21 The U.S. EPA considered zinc phosphide to be highly toxic via oral exposure.2 See the text boxes on Toxicity Classification and LD50/LC50.

LD50/LC50: A common measure of acute toxicity is the lethal dose (LD50) or lethal concentration (LC50) that causes death (resulting from a single or limited exposure) in 50 percent of the treated animals. LD50 is generally expressed as the dose in milligrams (mg) of chemical per kilogram (kg) of body weight. LC50 is often expressed as mg of chemical per volume (e.g., liter (L)) of medium (i.e., air or water) the organism is exposed to. Chemicals are considered highly toxic when the LD50/LC50 is small and practically non-toxic when the value is large. However, the LD50/LC50 does not reflect any effects from long-term exposure (i.e., cancer, birth defects or reproductive toxicity) that may occur at levels below those that cause death.

The oral LD50 for sheep is 60-70 mg/kg.16
Oral LD50 values were compiled for wild mammals and ranged from 8 mg/kg for kangaroo rats (Dipodomys spectabilis) and black-tailed jackrabbits (Lepus californicus) to 93 mg/kg for a kit fox (Vulpes macrotus mutica).19
Dermal
The dermal LD50 in rabbits was determined to be 2000-5000 mg/kg.22 Zinc phosphide is considered to be low in toxicitybased on these results.2
Eye irritation tests performed with zinc phosphide on rabbits resulted in discharge, chemosis or swelling of the eyelid and eye surface tissue, and some redness in the conjunctiva. The U.S. EPA considered zinc phosphide to be very low in toxicty for eye irritation.2
Researchers applied zinc phosphide to the skin of rabbits to determine if it is a skin irritant. Zinc phosphide was found to be non-irritating. Based on the low dermal toxicity and lack of dermal irritation, the U.S. EPA waived the skin sensitization tests.2
Inhalation
The U.S. EPA waived the re-registration requirement of determining an inhalation LC50 for zinc phosphide and considered it highly toxic via inhalation exposure.2
Rats exposed to 0, 2.5, 5.0, and 10.0 ppm phosphine for 6 hours all survived, although some animals exhibited nasal discharge during the exposure. Nasal discharge cleared after the exposure ended, and no exposure-related effects were noted 14 days after exposure.23
Signs of Toxicity - Animals
Signs of Toxicity - Humans
Animals
Humans
Chronic, low-level inhalation or oral exposures to zinc phosphide in people have been associated with weakness, anemia, toothache, necrosis of the jaw bones and associated swelling, weight loss, and spontaneous fractures.4
Blood samples taken from fumigant applicators and control subjects were examined for chromosomal abnormalities. Researchers collected samples during the application season, and 6 weeks to 3 months after application. Fumigant applicators who had been exposed to phosphine had more chromosome abnormalities than control subjects during the application season. Chromosomal rearrangements were more common in phosphine applicators than in controls 3 months after exposure.34
More recent investigations repeated the earlier work above, but found no such differences.35,36 One group of researchers hypothesized that improved personal protective equipment practices were responsible for the change.36 Other researchers reported that chromosomal breaks were more prevalent in men who used fumigants relative to controls, but these applicators also used insecticides and herbicides.37
Cancer: Government agencies in the United States and abroad have developed programs to evaluate the potential for a chemical to cause cancer. Testing guidelines and classification systems vary. To learn more about the meaning of various cancer classification descriptors listed in this fact sheet, please visit the appropriate reference, or call NPIC.
No data were found on the ability of zinc phosphide or phosphine to disrupt the endocrine system.
Animals
The U.S. EPA waived requirements for carcinogenicity studies for zinc phosphide because chronic exposure is not expected.2
Rats were fed diets for 2 years that had been fumigated with phosphine at rates of 48 and 90 g/metric ton for 48 and 72 hours, respectively. Feed was stored frozen following fumigation and residues at time of thawing averaged 1 ppm. Residues were expected to begin to dissipate at thawing, and were therefore unknown at time of consumption. No signs of carcinogenicity were noted.38
Rats exposed to phosphine through whole-body inhalation at concentrations of 0.3, 1.0, and 3.0 ppm for up to 2 years exhibited no carcinogenic effects.30
Humans
The U.S. EPA determined that chronic exposure to zinc phosphide should be negligible and therefore waived carcinogenicity testing requirements for reregistration.2 See the text box on Cancer.
No human data were found on carcinogenic effects of zinc phosphide or phosphine.
Animals
Researchers dosed 25 pregnant female rats per group daily by stomach tube at doses of 1, 2, or 4 mg/kg/day during the second week of the pregnancy. Nine of the rats in the highest dose group died although the cause of death was not determined. Rats in the highest dose group also ate less and lost weight in the first half of the week. Both parameters returned to pre-study levels by the end of the treatment period. The maternal NOEL was established at 2 mg/kg/day.39
Researchers exposed 24 pregnant female rats to phosphine for the 20 days of gestation at concentrations of 0, 0.03, 0.33, 2.80, 4.90, and 7.50 ppm in whole-body exposure tests. Fourteen of the females died by day 10 in the high-dose group. No treatment-related effects were noted in the dams of all other exposure groups.23
Ten male and 10 female adult rats were fed 0.03% zinc phosphide for 22 days. One male and four females died before the end of the exposure. All of the surviving rats maintained their fertility despite the exposure.17
Humans
No human data were found on the teratogenic or reproductive effects of zinc phosphide or phosphine exposure.
Absorption
Absorption of phosphine occurs through inhalation. It also occurs across the gastro-intestinal tract following ingestion of zinc phosphide and subsequent production of phosphine. Dermal absorption of zinc phosphide is low.4,16
Aluminum phosphide and magnesium phosphide are expected to hydrolyze to phosphine upon contact with moist respiratory membranes, and the phosphine can then be absorbed by the lungs.4
Inhalation exposure to zinc phosphide may lead to exposure through the gastrointestinal tract via particulate clearance mechanisms in the lungs, which could result in ingestion of particulate matter containing zinc phosphide. Subsequent hydrolysis and absorption of phosphine may occur.4
Distribution
Clinical signs in human poisonings suggest that phosphine is widely distributed to the liver, kidneys, and central nervous system.4
Metabolism
Metabolism of zinc phosphide is not well understood.14
Excretion
Phosphine may be exhaled from the lungs as the parent compound.4
The primary metabolite excreted in animal urine is hypophosphite.4
Tissue samples taken from suicide victims were analyzed using headspace gas chromatography with inductively coupled plasma mass spectrometry or a nitrogen-phosphorus detector following the fatal ingestion of aluminum phosphide tablets. Phosphine residues were detected in the brain, kidney, liver, heart, and surrenals. Phosphorus and aluminum residues were detected in blood.40,41
Silver nitrate strips have also been used to detect phosphine in post-mortem tissue samples. However, the process of anaerobic decomposition may produce traces of phosphine that are independent of any exogenous exposure.42
These biomarkers have not been widely utilized.
Soil
The "half-life" is the time required for half of the compound to break down in the environment.
1 half-life = 50% remaining
2 half-lives = 25% remaining
3 half-lives = 12% remaining
4 half-lives = 6% remaining
5 half-lives = 3% remaining
Half-lives can vary widely based on environmental factors. The amount of chemical remaining after a half-life will always depend on the amount of the chemical originally applied. It should be noted that some chemicals may degrade into compounds of toxicological significance.
Water
Air
Phospine released into the air rapidly breaks down following reaction with hydroxyl radicals, with a half-life of 5-28 hours. The oxidation products are inorganic phosphate and phosphorus oxyacids.4 See the text box on Half-life.
Phosphine will spontaneously combust at concentrations of greater than 1.8% and temperatures of 38 °C (104 °F). If other phosphorus hydride impurities are present, phosphine may ignite at room temperature.4
Plants
Commercial rodenticide pellets containing 2% zinc phosphide were placed in artificial gopher burrows in an alfalfa field. Pellets were applied at 3 pounds per acre (the label rate), 6 pounds per acre, and 9 pounds per acre in burrows 8" deep and 10' apart. Above-ground portions of the alfalfa were harvested after 1, 2, 7, and 30 days. No residues of zinc phosphide were detected in the alfalfa.45
A rodenticide bait containing 2% zinc phosphide was broadcast at rates of 5, 10, and 50 lbs/acre on sugarcane in Hawaii four times at two-month intervals. Samples of vegetation were taken one week after the final application and at harvest, 110 days later. The samples at one week contained 0.004-0.015 ppm of phosphine at the dry site and 0-0.045 ppm of phosphine at the wet site. At harvest, phosphine residues at the dry site were 0.006-0.032 ppm. No residues were detected at the wet site at harvest.46
Indoor
No data were found on indoor fate of either zinc phosphide or phosphine.
Food Residue
The USDA does not monitor food samples for zinc phosphide or phosphine as part of the Pesticide Data Program.47,48 Phosphine tolerances from the use of zinc phosphide are established for hay, wheat, alfalfa, barley, potatoes, grapes, sugar beets, and beans.49
The U.S. EPA determined that neither acute nor chronic exposure to zinc phosphide was expected through the diet.2
Birds
Fish and Aquatic Life
Phosphine is poorly soluble in water, but when it is in solution it can be acutely toxic to aquatic life.4

EC50: The median effective concentration (EC50) may be reported for sublethal or ambiguously lethal effects. This measure is used in tests involving species such as aquatic invertebrates where death may be difficult to determine. This term is also used if sublethal events are being monitored.

Newman, M.C.; Unger, M.A. Fundamentals of Ecotoxicology; CRC Press, LLC.: Boca Raton, FL, 2003; p 178.

The 96-hour LC50 for phosphine exposure in rainbow trout (Oncorhynchus mykiss) was 0.0097 ppm. The EC50 for Daphnia exposed to phosphine in a 24-hour test was 0.2 mg/L.1 See the text box on EC50.
An acute LC50 for rainbow trout exposed to phosphine was reported as 0.5 mg/L, and for bluegill sunfish (Lepomis macrochirus) the LC50 was 0.8 mg/L.1
Terrestrial Invertebrates
No information was found on the effects of zinc phosphide or phosphine on terrestrial invertebrates.
The chronic reference dose or cRfD for zinc phosphide is 0.0001 mg/kg/day.2 See the text box on Reference Dose (RfD).

Reference Dose (RfD): The RfD is an estimate of the quantity of chemical that a person could be exposed to every day for the rest of their life with no appreciable risk of adverse health effects. The reference dose is typically measured in milligrams (mg) of chemical per kilogram (kg) of body weight per day.

U.S. Environmental Protection Agency, Integrated Risk Information System, IRIS Glossary, 2009. https://www.epa.gov/iris/iris-glossary#r

The U.S. EPA did not classify zinc phosphide or phosphine with regards to carcinogenicity because chronic exposure is not expected.2 See the text box on Cancer.
The National Institute for Occupational Safety and Health (NIOSH) Recommended Exposure Limit, Time-Weighted Average (REL, TWA) for phosphine is 0.4 mg/m3.51
The Permissible Exposure Limit (PEL) for phosphine is 0.4 mg/m3.56
The Acute Exposure Guideline Levels, or AEGLs, for zinc phosphide range from 3.6 ppm for AEGL-3 for a 10-minute exposure to 0.13 for an 8-hour exposure, AEGL-2.57
The ACGIH Threshold Limit Value, or TLV, for phosphine is 0.3 ppm or 0.4 mg/m3.58
The exposure level considered Immediately Dangerous to Life and Health, or IDLH, for phosphine is 50 ppm.58
Date Reviewed: September 2010
Please cite as: Gervais, J. A. ; Luukinen, B.; Buhl, K.; Stone, D. 2010. Zinc Phosphide/Phosphine Technical Fact Sheet; National Pesticide Information Center, Oregon State University Extension Services. http://npic.orst.edu/factsheets/znptech.html.