As of 2011, NPIC stopped creating technical pesticide fact sheets. The old collection of technical fact sheets will remain available in this archive, but they may contain out-of-date material. NPIC no longer has the capacity to consistently update them. To visit our general fact sheets, click here. For up-to-date technical fact sheets, please visit the Environmental Protection Agency's webpage.
Molecular Structure -
Naphthalene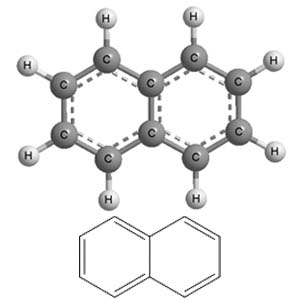 Laboratory Testing: Before pesticides are registered by the U.S. EPA, they must undergo laboratory testing for short-term (acute) and long-term (chronic) health effects. Laboratory animals are purposely given high enough doses to cause toxic effects. These tests help scientists judge how these chemicals might affect humans, domestic animals, and wildlife in cases of overexposure.
Naphthalene is a bicyclic aromatic hydrocarbon derived from coal tar or crude oil.1,2 It is an insecticide that is also used as a repellent.3 Its International Union of Pure and Applied Chemistry (IUPAC) name is naphthalene.4 The Chemical Abstracts Service (CAS) registry number is 91-20-3.3
Naphthalene and other polycyclic aromatic hydrocarbons (PAHs) are released from incomplete combustion processes originating in industry, domestic sources including cigarette smoke and motor vehicle exhaust, as well as natural events such as forest fires.5
Naphthalene was first registered as a pesticide in the United States in 1948 with the U.S. Department of Agriculture (USDA).3 A registration standard was issued by the United States Environmental Protection Agency (U.S. EPA) in 1981, and the agency reregistered naphthalene in 2008.3 See the text box on Laboratory Testing.
Naphthalene is primarily used in the United States in the production of plastics, dyes, resins, lubricants, and fuels.4 As a pesticide, most naphthalene is used to control moths in indoor storage areas. Products are also registered to repel squirrels, bats and other animals in attics, around structures and gardens.3 Uses for individual products containing naphthalene vary widely. Always read and follow the label when applying pesticide products.
Signal words for products containing naphthalene may range from Caution to Danger. The signal word reflects the combined toxicity of the active ingredient and other ingredients in the product. See the pesticide label on the product and refer to the NPIC fact sheets on Signal Words and Inert or "Other" Ingredients.
To find a list of products containing naphthalene which are registered in your state, visit the website http://npic.orst.edu/reg/state_agencies.html select your state then click on the link for "State Products."
Target Organisms
Naphthalene is used for the control of clothes moths. In this application, the naphthalene vapors fill the airtight container and kill the insects. No information was found on the mode of action of naphthalene in insects.
Naphthalene is registered for use as a wildlife repellent in some products. In this application, it is meant to be effective via inhalation and subsequent avoidance of the odor in the treated area.3
Non-target Organisms
Oral
Acute oral LD50 values in rats range from 2200 mg/kg to 2600 mg/kg.1,17,18 Based on these values, the U.S. EPA considered naphthalene to be low in toxicity via oral exposure.3 See the text boxes on Toxicity Classification and LD50/LC50.

LD50/LC50: A common measure of acute toxicity is the lethal dose (LD50) or lethal concentration (LC50) that causes death (resulting from a single or limited exposure) in 50 percent of the treated animals. LD50 is generally expressed as the dose in milligrams (mg) of chemical per kilogram (kg) of body weight. LC50 is often expressed as mg of chemical per volume (e.g., liter (L)) of medium (i.e., air or water) the organism is exposed to. Chemicals are considered highly toxic when the LD50/LC50 is small and practically non-toxic when the value is large. However, the LD50/LC50 does not reflect any effects from long-term exposure (i.e., cancer, birth defects or reproductive toxicity) that may occur at levels below those that cause death.
Dermal
The dermal LD50 was determined to be greater than 2000 mg/kg in rabbits.17 Naphthalene is considered low in toxicity by the U.S. EPA for dermal exposure.3
The U.S. EPA considered primary eye irritation to be slight to moderate and skin irritation to be moderate based on studies with rabbits. Naphthalene is considered to be low in toxicity for both exposure routes.3
Naphthalene was not found to be a skin sensitizer in guinea pigs.3,17
TOXICITY CLASSIFICATION - NAPHTHALENE
High Toxicity
Moderate Toxicity
Low Toxicity
Very Low Toxicity
Acute Oral LD50
Up to and including 50 mg/kg
(≤ 50 mg/kg)
Greater than 50 through 500 mg/kg
(>50-500 mg/kg)
Greater than 500 through 5000 mg/kg
(>500-5000 mg/kg)
Greater than 5000 mg/kg
(>5000 mg/kg)
Inhalation LC50
Up to and including 0.05 mg/L
(≤0.05 mg/L)
Greater than 0.05 through 0.5 mg/L
(>0.05-0.5 mg/L)
Greater than 0.5 through 2.0 mg/L
(>0.5-2.0 mg/L)
Greater than 2.0 mg/L
(>2.0 mg/L)
Dermal LD50
Up to and including 200 mg/kg
(≤200 mg/kg)
Greater than 200 through 2000 mg/kg
(>200-2000 mg/kg)
Greater than 2000 through 5000 mg/kg
(>2000-5000 mg/kg)
Greater than 5000 mg/kg
(>5000 mg/kg)
Primary Eye Irritation
Corrosive (irreversible destruction of ocular tissue) or corneal involvement or irritation persisting for more than 21 days
Corneal involvement or other eye irritation clearing in 8 - 21 days
Corneal involvement or other eye irritation clearing in 7 days or less
Minimal effects clearing in less than 24 hours
Primary Skin Irritation
Corrosive (tissue destruction into the dermis and/or scarring)
Severe irritation at 72 hours (severe erythema or edema)
Moderate irritation at 72 hours (moderate erythema)
Mild or slight irritation at 72 hours (no irritation or erythema)
The highlighted boxes reflect the values in the "Acute Toxicity" section of this fact sheet. Modeled after the U.S. Environmental Protection Agency, Office of Pesticide Programs, Label Review Manual, Chapter 7: Precautionary Labeling. http://www.epa.gov/oppfead1/labeling/lrm/chap-07.pdf
Inhalation
The inhalation LC50 for naphthalene was determined to be 0.4 mg/L or 77.7 ppm in an unspecified animal species, and it is considered moderately toxic via inhalation by the U.S. EPA.3
Mice exposed to 2 ppm naphthalene vapors for four hours exhibited damage to the Clara cells of the proximal airways.21 Clara cells are nonciliated bronchiolar cells containing P450 enzymes, the makeup and distribution of which are species dependent.22 Rats, however, were unaffected following inhalation exposure to naphthalene for four hours at concentrations up to 110 ppm.21
Signs of Toxicity - Animals
Signs of Toxicity - Humans
Animals
Humans
Children aged 1.5-36 months have developed hemolytic anemia following dermal exposure to diapers or other clothing stored with naphthalene mothballs or playing in a room used to store naphthalene mothballs.29 Infants developed hemolytic anemia and other complications following inhalation exposure to clothing, blankets, linens, or diapers stored in or around naphthalene.11 See the text box on Exposure.

Exposure: Effects of naphthalene on human health and the environment depend on how much naphthalene is present and the length and frequency of exposure. Effects also depend on the health of a person and/or certain environmental factors.

A 68-year-old woman developed aplastic anemia following inhalation and possibly dermal exposure to naphthalene and paradichlorobenze, which she placed into containers with stored clothing several hours a day for three weeks while working for a clothing resale business. The woman had worked in a room with poor ventilation and no air conditioning during hot weather, which contributed to high vapor concentrations of naphthalene and paradichlorobenzene.30
Atlantic croaker fish (Micropogonias undulatus) exposed to naphthalene at either 0.5 or 1.0 ppm daily during sexual maturation demonstrated reduced rates of sexual maturity and arrested or reduced egg development. Reduced egg growth was associated with decreased gonadal steroid levels in plasma.31
Animals
Researchers exposed male and female F344 rats to naphthalene vapors at 10, 30, or 60 ppm for 6 hours a day, five days a week for two years. Respiratory epithelial adenomas and olfactory epithelial neuroblastomas occurred in the noses of both males and females. In addition, non-cancerous lesions were also noted in the lungs and noses of the animals.32
The National Toxicology Program (NTP) concluded that there was some evidence of carcinogenic activity of naphthalene in female B6C3F1 mice. When these mice were exposed to naphthalene vapors for two years at 10 or 30 ppm, they developed increased rates of bronchiolar and alveolar adenomas. No evidence of carcinogenic activity was found in male mice exposed to the same doses.33
Embryonic roundworms (Caenorhabditis elegans) were used in mechanistic studies of the carcinogenicity of naphthalene. The authors hypothesized that the 1,4-naphthoquinone metabolite of naphthalene suppressed normal cell apoptosis.34
Humans
The International Agency for Research on Cancer (IARC) of the World Health Organization (WHO) concluded that there was inadequate evidence to evaluate the carcinogenicity of naphthalene to humans, but found sufficient evidence in animals to conclude that naphthalene is carcinogenic. IARC concluded their evaluation by placing naphthalene in Group 2B, possibly carcinogenic to humans.4 See the text box on Cancer.

Cancer: Government agencies in the United States and abroad have developed programs to evaluate the potential for a chemical to cause cancer. Testing guidelines and classification systems vary. To learn more about the meaning of various cancer classification descriptors listed in this fact sheet, please visit the appropriate reference, or call NPIC.

Naphthalene is classified as Group C, possible human carcinogen, by the U.S. EPA. This is based on limited evidence of carcinogenicity following inhalation exposure in animals, and lack of data for humans.35
Animals
Humans
Hemolytic anemia has been reported in infants born to mothers who ingested mothballs or inhaled high concentrations of naphthalene vapors during pregnancy.13,38
Naphthalene was detected in human breast milk from women in four urban areas near industrial facilities or chemical manufacturing plants.39 Naphthalene in the nursing infants was not reported and no further information was found.
The umbilical cord blood of pregnant women exposed to naphthalene and other volatile organic compounds including methylcyclopentane and tetrachloroethylene contained elevated levels of cytokine-producing T-cells. These data suggest that naphthalene may cross the placenta and affect the immune system of the newborn.40
Absorption
Researchers applied 3.3 μg/cm2 naphthalene to the skin of rats either alone or in combination with sandy or clay soil. Half of the dermally applied pure naphthalene reached the bloodstream in 2.1 hours. The absorption half-life of naphthalene and clay soil was 2.8 hours, and for naphthalene and sandy soil, 4.6 hours.41 Although adsorption to soil slowed the absorption of naphthalene, the total amount eventually absorbed by the skin was unchanged.41
Daily use of baby oil may have increased the absorption of naphthalene through the skin of an infant who wore diapers stored in naphthalene and subsequently developed acute hemolytic anemia.42
Once inhaled, naphthalene is thought to enter the body by passive diffusion across the alveolar membranes. Researchers have proposed that naphthalene enters the body through intestinal membrane following oral exposure.1 Evidence suggests that absorption of naphthalene flakes or balls through the intestine can continue for several days after ingestion due to the slow dissolution of the solid form.1
No data were found quantifying rates of absorption of naphthalene in humans following either oral or dermal exposure.
Distribution
Metabolism
Excretion
Biomarkers of exposure to naphthalene have been reported in the scientific literature.5 Scientists have used high-pressure liquid chromatography and gas chromatography to detect and quantify naphthalene metabolites in urine of laboratory animals and humans.5 This method of testing for exposure to naphthalene has not been well-studied in humans, and its clinical significance is currently unknown.
Smoking has been considered a major source of urinary metabolites of naphthalene.5,50 In addition, levels of urinary naphthols may be affected by genetic polymorphisms in enzyme expression.50 Exposure to the insecticide carbaryl may also lead to the formation of 1-naphthol, the metabolite used in workplace exposure monitoring.9
Methods also exist for detecting naphthalene and its metabolites in blood, urine, feces, breast milk, and body fat but these tests are not routinely done in a doctor's office.1
Soil
Water
Air
Hydroxyl radicals react with naphthalene in the atmosphere at a rate of 2.17 x 10-11 cm3/molecules sec.61 Based on this rate, the half-life of naphthalene in air is less than one day.1 Nitrate may also react with naphthalene in the atmosphere.51
Napthalene degraded to form 1-naphthol, 2-naphthol, 1-nitronaphthalene, and 2-nitronaphthalene in the presence of hydroxyl radicals and nitric oxides. Researchers noted that other unidentified metabolites also were present.62
Plants
Indoor
Naphthalene has been detected in indoor air. It is a product of combustion when organic materials are burned. Tobacco smoking, cooking, and moth repellents may all be sources of naphthalene indoors.1
Clothing stored with naphthalene mothballs may adsorb the naphthalene. The clothing itself then may act as a source of naphthalene in indoor air.67
Indoor air concentrations measured in 24 low-income houses in Durham, NC ranged from 334 to 9700 ng/m3 naphthalene, with a mean concentration of 2190 ng/m3 (SD=1870 ng/m3).68 House dust contained a mean concentration of 0.33 μg/g naphthalene (SD=0.85 μg/g).68 Samples were collected from rural and urban areas, and included both smokers' and nonsmokers' households.68
Food Residue
No tolerances were found for naphthalene in food.
Cabbage, carrots, leeks, lettuce and endives were grown in an industrial area in northern Greece, then washed and peeled. The vegetables contained naphthalene at concentrations ranging from 0.37 μg/kg (cabbage) to 63 μg/kg (endive) dry weight.66
Researchers measured naphthalene residues in samples of the food consumed by 24 low-income households in North Carolina. They found 0.01-18.7 μg/kg naphthalene in the adults' food (mean= 3.75 μg/kg) and 0.10-54.9 μg/kg naphthalene in the food of the children (mean= 4.08 μg/kg).68
Birds
The acute oral LD50 in bobwhite quail (Colinus virginianus) was 2690 mg/kg, and the LC50 was estimated as greater than 5620 mg/kg. In both cases, naphthalene was considered by the U.S. EPA as practically nontoxic by ingestion.3
Fish and Aquatic Life
Terrestrial Invertebrates
No data were found on the acute toxicity of naphthalene to the honey bee (Apis mellifera).
Soil invertebrates (Folsomia candida, or springtail) were exposed to naphthalene in chronic tests. The NOAEC was 88 μmol/kg soil and the LOAEC was 409 μmol/kg soil based on effects on reproduction and survival.3
Earthworms (Enchytaeus crypticus) were also studied following chronic exposure to naphthalene in soil. The NOAEC was 220 μmol/kg soil and the LOAEC was 2045 μmol/kg soil.3
Pseudomonas putida bacteria were added to soil that had been mixed with naphthalene 68 days earlier, and soil that had just been mixed with naphthalene. The bacteria metabolized the freshly treated soil much more rapidly, suggesting that aging of naphthalene in the soil matrix made it unavailable for biodegradation.71 In both cases, most of the degradation occurred in the first 3 days.71
In the same study, earthworms (Eisenia foetida) incorporated 2.3% of radioactive naphthalene from freshly treated soil into their bodies, but only 1.4% of radioactive naphthalene that had been added to soil 68 days earlier.71
The U.S. EPA set the chronic reference dose or cRfD for naphthalene at 0.1 mg/kg/day and acute reference dose or aRfD at 0.4 mg/kg/day for naphthalene based on studies of exposure in rats.3 See the text box on Reference Dose (RfD).

Reference Dose (RfD): The RfD is an estimate of the quantity of chemical that a person could be exposed to every day for the rest of their life with no appreciable risk of adverse health effects. The reference dose is typically measured in milligrams (mg) of chemical per kilogram (kg) of body weight per day.

U.S. Environmental Protection Agency, Technology Transfer Network, Air Toxics Health Effects Glossary, 2009. http://www.epa.gov/ttnatw01/hlthef/hapglossaryrev.html#RfD

The U.S. EPA classifies naphthalene as Group C, possible human carcinogen.35 The IARC classification is Group 2B, possibly carcinogenic to humans.4 See the text box on Cancer.
The Recommended Exposure Limit (REL) for a time-weighted average (TWA) is 10 ppm or 50 mg/m3, and the Short Term Exposure Limit (STEL) is 15 ppm or 75 mg/m3.72
The Permissible Exposure Limit (PEL) is 10 ppm or 50 mg/m3 for naphthalene.72
Date Reviewed: November 2010
Please cite as: Gervais, J.; Luukinen, B.; Buhl, K.; Stone, D. 2010. Naphthalene Technical Fact Sheet; National Pesticide Information Center, Oregon State University Extension Services. http://npic.orst.edu/factsheets/archive/naphtech.html.