As of 2011, NPIC stopped creating technical pesticide fact sheets. The old collection of technical fact sheets will remain available in this archive, but they may contain out-of-date material. NPIC no longer has the capacity to consistently update them. To visit our general fact sheets, click here. For up-to-date technical fact sheets, please visit the Environmental Protection Agency's webpage.
Molecular Structure -
Imidacloprid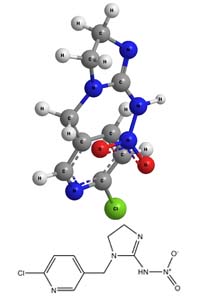 Laboratory Testing: Before pesticides are registered by the U.S. EPA, they must undergo laboratory testing for short-term (acute) and long-term (chronic) health effects. Laboratory animals are purposely given high enough doses to cause toxic effects. These tests help scientists judge how these chemicals might affect humans, domestic animals, and wildlife in cases of overexposure.
Imidacloprid is a neonicotinoid insecticide in the chloronicotinyl nitroguanidine chemical family.1,2 The International Union of Pure and Applied Chemistry (IUPAC) name is 1-(6-chloro-3- pyridylmethyl)-N-nitroimidazolidin-2-ylideneamine and the Chemical Abstracts Service (CAS) registry number is 138261-41-3.2
Neonicotinoid insecticides are synthetic derivatives of nicotine, an alkaloid compound found in the leaves of many plants in addition to tobacco.3,4,5
Imidacloprid was first registered for use in the U.S. by the United States Environmental Protection Agency (U.S. EPA) in 1994.6 See the text box on Laboratory Testing.
Imidacloprid is used to control sucking insects, some chewing insects including termites, soil insects, and fleas on pets. In addition to its topical use on pets, imidacloprid may be applied to structures, crops, soil, and as a seed treatment.2,10 Uses for individual products containing imidacloprid vary widely. Always read and follow the label when applying pesticide products.
Signal words for products containing imidacloprid may range from Caution to Danger. The signal word reflects the combined toxicity of the active ingredient and other ingredients in the product. See the pesticide label on the product and refer to the NPIC fact sheets on Signal Words and Inert or "Other" Ingredients.
To find a list of products containing imidacloprid which are registered in your state, visit the website http://npic.orst.edu/reg/state_agencies.html select your state then click on the link for "State Products."
Target Organisms
Imidacloprid is designed to be effective by contact or ingestion.2 It is a systemic insecticide that translocates rapidly through plant tissues following application.2,10
Imidacloprid acts on several types of post-synaptic nicotinic acetylcholine receptors in the nervous system.11,12 In insects, these receptors are located only within the central nervous system. Following binding to the nicotinic receptor, nerve impulses are spontaneously discharged at first, followed by failure of the neuron to propagate any signal.13,14 Sustained activation of the receptor results from the inability of acetylcholinesterases to break down the pesticide.12 This binding process is irreversible.5
Non-target Organisms
Imidacloprid's mode of action is similar on target and non-target beneficial insects including honeybees, predatory ground beetles and parasitoid wasps.10 However, imidacloprid is ineffective against spider mites and nematodes.2
Mammalian nicotinic receptors are made up of a number of subtypes.14 In contrast to insects, these receptors are present at neuromuscular junctions as well as in the central nervous system.14 However, the binding affinity of imidacloprid at the nicotinic receptors in mammals is much less than that of insect nicotinic receptors.15 This appears to be true of other vertebrate groups including birds.16,17
The blood-brain barrier in vertebrates blocks access of imidacloprid to the central nervous system, reducing its toxicity.14
Oral
Imidacloprid is moderately toxic if ingested.18 Oral LD50 values in rats were estimated to be 450 mg/kg for both sexes in one study and 500 and 380 mg/kg in males and females, respectively in another study.2,19 In mice, LD50 values were estimated at 130 mg/kg for males and 170 mg/kg for females.19,20 See the text boxes on Toxicity Classification and LD50/LC50.
LD50/LC50: A common measure of acute toxicity is the lethal dose (LD50) or lethal concentration (LC50) that causes death (resulting from a single or limited exposure) in 50 percent of the treated animals. LD50 is generally expressed as the dose in milligrams (mg) of chemical per kilogram (kg) of body weight. LC50 is often expressed as mg of chemical per volume (e.g., liter (L)) of medium (i.e., air or water) the organism is exposed to. Chemicals are considered highly toxic when the LD50/LC50 is small and practically non-toxic when the value is large. However, the LD50/LC50 does not reflect any effects from long-term exposure (i.e., cancer, birth defects or reproductive toxicity) that may occur at levels below those that cause death.
Dermal
Imidacloprid is very low in toxicity via dermal exposure.18 The dermal LD50 in rats was estimated at greater than 5000 mg/kg.2,19
Inhalation
TOXICITY CLASSIFICATION - IMIDACLOPRID
High Toxicity
Moderate Toxicity
Low Toxicity
Very Low Toxicity
Acute Oral LD50
Up to and including 50 mg/kg
(≤ 50 mg/kg)
Greater than 50 through 500 mg/kg
(>50-500 mg/kg)
Greater than 500 through 5000 mg/kg
(>500-5000 mg/kg)
Greater than 5000 mg/kg
(>5000 mg/kg)
Inhalation LC50
Up to and including 0.05 mg/L
(≤0.05 mg/L)
Greater than 0.05 through 0.5 mg/L
(>0.05-0.5 mg/L)
Greater than 0.5 through 2.0 mg/L
(>0.5-2.0 mg/L)
Greater than 2.0 mg/L
(>2.0 mg/L)
Dermal LD50
Up to and including 200 mg/kg
(≤200 mg/kg)
Greater than 200 through 2000 mg/kg
(>200-2000 mg/kg)
Greater than 2000 through 5000 mg/kg
(>2000-5000 mg/kg)
Greater than 5000 mg/kg
(>5000 mg/kg)
Primary Eye Irritation
Corrosive (irreversible destruction of ocular tissue) or corneal involvement or irritation persisting for more than 21 days
Corneal involvement or other eye irritation clearing in 8 - 21 days
Corneal involvement or other eye irritation clearing in 7 days or less
Minimal effects clearing in less than 24 hours
Primary Skin Irritation
Corrosive (tissue destruction into the dermis and/or scarring)
Severe irritation at 72 hours (severe erythema or edema)
Moderate irritation at 72 hours (moderate erythema)
Mild or slight irritation at 72 hours (no irritation or erythema)
The highlighted boxes reflect the values in the "Acute Toxicity" section of this fact sheet. Modeled after the U.S. Environmental Protection Agency, Office of Pesticide Programs, Label Review Manual, Chapter 7: Precautionary Labeling. https://www.epa.gov/sites/default/files/2018-04/documents/chap-07-mar-2018.pdf
Signs of Toxicity - Animals
Signs of Toxicity - Humans
Animals
Rats consumed imidacloprid in their diet for three months at doses of 14, 61, and 300 mg/kg/day for males and 20, 83, and 420 mg/ kg/day for females. Researchers noted reductions in body weight gain, liver damage, and reduced blood clotting function and platelet counts at 61 mg/kg/day in males and 420 mg/kg/day in females. Liver damage disappeared after exposure ended, but abnormalities in the blood were not entirely reversible. Researchers estimated the NOAEL at 14 mg/kg/day.27 See the text box on NOAEL, NOEL,LOAEL, and LOEL.

NOAEL: No Observable Adverse Effect Level

NOEL: No Observed Effect Level

LOAEL: Lowest Observable Adverse Effect Level

LOEL: Lowest Observed Effect Level

Imidacloprid dust was administered through the noses of rats for six hours a day, five days a week for four weeks at concentrations of 5.5, 30.0, and 190.0 mg/m3. Male rats exhibited reduced body weight gain at the two highest doses and at the highest dose, increased liver enzyme activity and increased blood coagulation time was noted. Female rats exhibited increased liver enzyme activity at the two highest doses and at the highest dose, researchers noted enlarged livers and reduced thrombocyte counts. No effects were observed at the lowest dose.28
Researchers applied a paste containing 1000 mg/kg imidacloprid to the shaved flanks and backs of rabbits, exposing the rabbits for 6 hours a day for 15 days. Rabbits showed no effects from the treatment.29
Researchers fed imidacloprid to beagles for one year. Concentrations were 200, 500, or 1250 ppm for the first 16 weeks and 200, 500, and 2500 ppm for the remainder of the trial. Doses were equivalent to 6.1, 15.0, and 41.0 or 72.0 mg/kg/day. Researchers noted reduced food intake in the highest dose group. Females in this group exhibited increased plasma cholesterol concentrations at 13 and 26 weeks. Both males and females in this group exhibited increased cytochrome P450 activity in the liver and increases in liver weights at the end of the study. No adverse effects were observed at the two lowest doses.30
Humans
No studies were found involving human subjects chronically exposed to imidacloprid. See the text box on Exposure.

Exposure: Effects of imidacloprid on human health and the environment depend on how much imidacloprid is present and the length and frequency of exposure. Effects also depend on the health of a person and/or certain environmental factors.

The chronic dietary reference dose (RfD) has been set at 0.057 mg/kg/day based on chronic toxicity and carcinogenicity studies using rats. The NOAEL was estimated to be 5.7 mg/kg/day and the LOAEL was set at 16.9 mg/kg/day based on increased occurrence of mineralized particles in the thyroid gland of male rats.31 See the text box on Reference Dose (RfD).
No data were found evaluating the potential of imidacloprid to disrupt endocrine function.
Imidacloprid is included in the draft list of initial chemicals for screening under the U.S. EPA Endocrine Disruptor Screening Program (EDSP).32 The list of chemicals was generated based on exposure potential, not based on whether the pesticide is a known or likely potential endocrine disruptor.
Animals
Researchers concluded that Scottish terriers treated with topical flea and tick products, including those containing imidacloprid, did not have a greater risk of developing urinary bladder cancer compared with control dogs.33 Rats were fed imidacloprid for 18 or 24 months at unspecified concentrations. Although signs of toxicity were noted, researchers concluded that imidacloprid showed no evidence of carcinogenic potential.20
A range of studies using both in vitro and in vivo techniques concluded that imidacloprid did not damage DNA.19
Humans
The U.S. EPA has classified imidacloprid into Group E, no evidence of carcinogenicity, based on studies with rats and mice.20,31 See the text box on Cancer.

Cancer: Government agencies in the United States and abroad have developed programs to evaluate the potential for a chemical to cause cancer. Testing guidelines and classification systems vary. To learn more about the meaning of various cancer classification descriptors listed in this fact sheet, please visit the appropriate reference, or call NPIC.

Imidacloprid has not been evaluated for the carcinogenicity by the International Agency for Research on Cancer (IARC), nor the National Toxicology Program (NTP).
A study of human lymphocytes exposed to greater than 5200 μg/mL of imidacloprid demonstrated a slight increase in chromosome abnormalities in vitro, but this result was not found with in vivo tests.19
Animals
Rats were fed imidacloprid at doses of 10, 30, or 100 mg/kg/day on days 6 to 15 of their pregnancies.20 On day 21 of the pregnancy, rats at the highest doses showed reduced embryo development and signs of maternal toxicity. In addition, wavy ribs were observed in the fetuses.20,34
Researchers fed rabbits doses of imidacloprid at 8, 24, or 72 mg/kg/day during days 6-18 of pregnancy. On day 28 of pregnancy, researches noted maternal toxicity including death in the highest dose group, and the animals that survived in this group carried embryos with reduced rates of growth and bone ossification. In some of these rabbits, the young were aborted or resorbed.20,35
In a two-generation study of reproductive toxicity, researchers dosed rats with 100, 250, or 700 ppm of imidacloprid in their diet for 87 days until rats mated. This was equivalent to 6.6, 17.0, and 47.0 mg/kg/day. Mother rats exhibited increased Odemethylase activity at doses of 17 mg/kg/day and greater. Reduced body weight gains were noted in pups at doses of 47 mg/kg/day. No effects on reproductive behavior or success were observed.20,36
Humans
No human data were found on the reproductive effects of imidacloprid.
Absorption
The gastrointestinal tract of rats absorbed 92% of an unspecified dose. Plasma concentrations peaked 2.5 hours after administration.19
Little systemic absorption through the skin occurs following dermal exposure in pets.1
Researchers tested imidacloprid absorption using human intestinal cells. Cells rapidly absorbed imidacloprid at a very high rate of efficiency. Researchers concluded that an active transport system was involved.37
Distribution
Researchers administered a single oral dose of radio-labeled imidacloprid at 20 mg/kg to male rats. One hour after dosing, imidacloprid was detected throughout the bodies with the exception of fatty tissues and the central nervous system.38
No studies were found examining the distribution of imidacloprid in humans.
Metabolism
Mammals metabolize imidacloprid in two major pathways discussed below. Metabolism occurs primarily in the liver.20
In the first pathway, imidacloprid may be broken by oxidative cleavage to 6-chloronicotinic acid and imidazolidine. Imidazolidine is excreted in the urine, and 6-chloronicotinic acid undergoes further metabolism via glutathione conjugation to form mercaptonicotinic acid and a hippuric acid.20,39
Excretion
The metabolic products 5-hydroxy and olefin derivatives resulting from hydroxylation of the imidazolidine ring are excreted in both the feces and urine.39,41
Metabolites found in urine include 6-chloronicotinic acid and its glycine conjugate, and accounted for roughly 20% of the original radio-labeled dose.42
Metabolites in the feces accounted for roughly 80% of the administered dose in rats and included monohydroxylated derivatives in addition to unmetabolized imidacloprid, which made up roughly 15% of the total. Olefin, guanidine, and the glycine conjugate of methylthionicotinic acid were identified as minor metabolites.2,42
Rats excreted 96% of radio-labeled imidacloprid within 48 hours following an unspecified oral dosing, with 90% excreted in the first 24 hours.40 Radio-labeled imidacloprid was present in low amounts in organs and tissues 24 hours after male rats were orally dosed with 20 mg/kg.38
No information was found on the specific metabolism of imidacloprid in humans.
Researchers have tested for imidacloprid exposure in farm workers by evaluating urine samples with high performance liquid chromatography.43 The method has not been well studied in humans and the clinical significance of detected residues is unknown.
The "half-life" is the time required for half of the compound to break down in the environment.
1 half-life = 50% remaining
2 half-lives = 25% remaining
3 half-lives = 12% remaining
4 half-lives = 6% remaining
5 half-lives = 3% remaining
Half-lives can vary widely based on environmental factors. The amount of chemical remaining after a half-life will always depend on the amount of the chemical originally applied. It should be noted that some chemicals may degrade into compounds of toxicological significance.
Soil
Water
Air
Volatilization potential is low due to imidacloprid's low vapor pressure.7
Imidacloprid is metabolized by photodegradation from soil surfaces and water.42
Plants
Indoor
No information regarding indoor half-life or residues was found for imidacloprid.
Researchers measured residue transfer of a commercial spot-on product containing imidacloprid on dogs' fur to people. Gloves worn to pat the dogs contained an average of 254 ppm of imidacloprid 24 hours following application of the product. Residues from the fur declined to an average of 4.96 ppm by the end of the first week.56
Food Residue
The United States Department of Agriculture (USDA) Pesticide Data Program monitored imidacloprid residues in food and published their findings in 2006. Imidacloprid was detected in a range of fresh and processed fruits and vegetables. It was detected in over 80% of all bananas tested, 76% of cauliflower, and 72% of spinach samples. In all cases, however, the levels detected were below the U.S. EPA's tolerance levels. Imidacloprid was also found in 17.5 % of applesauce and 0.9% raisin samples, although percentage of detections were greater in the fresh unprocessed fruit (26.6% of apples sampled, and 18.1% of grapes sampled).57
Imidacloprid was not one of the compounds sampled for the 2006 Food and Drug Administration (FDA) Center for Food Safety and Applied Nutrition's Pesticide Residue Monitoring Program.57
Birds
The acute LD50 for birds varies by species; it was determined to be 31 mg/kg in Japanese quail but 152 mg/kg in bobwhite quail. However, dietary LC50 values for a five-day interval were 2225 mg/kg/day for bobwhite quail and in excess of 5000 mg/kg for mallard ducks.2
Fish and Aquatic Life
LC50 values for a 96-hour exposure were 237 mg/L for golden orfe (Leuciscus idus) and 21 mg/L for rainbow trout (Oncorhyncus mykiss).2
Researchers determined LC50 values of 85 mg/L for Daphnia with a 48-hour exposure. A concentration of greater than 100 mg/L for 72 hours was required to reduce the growth rate of the alga Pseudokirchneriella subcapitata by 50%.2
The EC50 of imidacloprid for Daphnia magna was 96.65 mg/L. However, the EC50 declined to 90.68 mg/L when predator cues were added to the water as an additional stress. Sublethal exposures reduced feeding and increased respiration rates in Daphnia. Exposed Daphnia did not respond to predator cues as quickly as did control animals, and failed to mature as quickly or produce as many young. These changes led to reduced population growth rate following exposure.58 See the text box on EC50.
EC50: The median effective concentration (EC50) may be reported for sublethal or ambiguously lethal effects. This measure is used in tests involving species such as aquatic invertebrates where death may be difficult to determine. This term is also used if sublethal events are being monitored.
Newman, M.C.; Unger, M.A. Fundamentals of Ecotoxicology; CRC Press, LLC.: Boca Raton, FL, 2003; p 178.
Terrestrial Invertebrates
The reference dose (RfD) is 0.057 mg/kg/day.31 See the text box on Reference Dose (RfD).

Reference Dose (RfD): The RfD is an estimate of the quantity of chemical that a person could be exposed to every day for the rest of their life with no appreciable risk of adverse health effects. The reference dose is typically measured in milligrams (mg) of chemical per kilogram (kg) of body weight per day.

U.S. Environmental Protection Agency, Integrated Risk Information System, IRIS Glossary, 2009. https://www.epa.gov/iris/iris-glossary#r

The U.S. EPA has classified imidacloprid into Group E, no evidence of carcinogenicity, based on studies with rats and mice.20,31 See the text box on Cancer.
The acute Population Adjusted Dose (aPAD) is 0.14 mg/kg.31
The chronic Population Adjusted Dose (cPAD) is 0.019 mg/kg/day.31
Date Reviewed: April 2010
Please cite as: Gervais, J. A.; Luukinen, B.; Buhl, K.; Stone, D. 2010. Imidacloprid Technical Fact Sheet; National Pesticide Information Center, Oregon State University Extension Services. http://npic.orst.edu/factsheets/archive/imidacloprid.html.