As of 2011, NPIC stopped creating technical pesticide fact sheets. The old collection of technical fact sheets will remain available in this archive, but they may contain out-of-date material. NPIC no longer has the capacity to consistently update them. To visit our general fact sheets, click here. For up-to-date technical fact sheets, please visit the Environmental Protection Agency's >webpage.
Molecular Structure -
Dicamba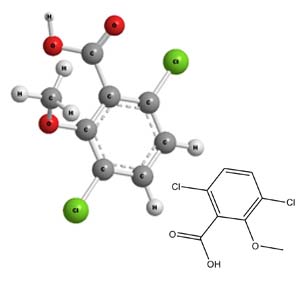 Laboratory Testing: Before pesticides are registered by the U.S. EPA, they must undergo laboratory testing for short-term (acute) and long-term (chronic) health effects. Laboratory animals are purposely given high enough doses to cause toxic effects. These tests help scientists judge how these chemicals might affect humans, domestic animals, and wildlife in cases of overexposure.
Dicamba is a selective pre- and post-emergent herbicide.1 It is classified as either a benzoic acid or chlorophenoxy herbicide.2,3 The International Union of Pure and Applied Chemistry (IUPAC) name for the acid form is 3,6-dichloro-2-methoxybenzoic acid and the Chemical Abstracts Service (CAS) registry number is 1918-00-9.4
Dicamba was first registered for use in the United States in 1967.3 See the text box on Laboratory Testing.
See table below for the physical/chemical properties of the two forms that are most widely used in herbicides. Unless otherwise stated, this fact sheet refers to the acid form.
Dicamba
Active Ingredient
CASRN5
Form5,6
Vapor pressure5
Henry's constant4
Molecular weight5
Solubility in water (mg/L)5
Log Kow4
Koc5
Dicamba acid
1918-00-9
White to brown crystalline solid
4.5 x 10-3 Pa at 25 °C
1.0 x 10-4 Pa m3/mol-1
221.04 g/mole
4500 mg/L at 25 °C
pH 5.0: -0.55
pH 6.8: -1.88
pH 8.9: -1.9
2
Dimethylamine salt
2300-66-5
Colorless to white crystalline powder
266.12 g/mole
720,000 mg/L
Dicamba is a selective herbicide used to control a wide spectrum of broadleaf weeds and woody plants. It is registered for use in agriculture and other applications.3
In agricultural applications, dicamba is registered for use on rye, asparagus, barley, corn, oats, soybeans, sugarcane and wheat. Dicamba is also registered for use on golf courses, residential lawns, and rights-of-way along utility lines, roadsides and railways.3
Signal words for products containing dicamba may range from Caution to Danger.10 The signal word reflects the combined toxicity of the active ingredient and other ingredients in the product. See the pesticide label on the product and refer to the NPIC fact sheets on Signal Words and Inert or "Other" Ingredients.
To find a list of products containing dicamba which are registered in your state, visit the website http://npic.orst.edu/reg/state_agencies.html select your state then click on the link for "State Products."
Target Organisms
At low doses, dicamba has similar hormonal properties to natural auxins.7 High concentrations of dicamba in plant tissues induces abnormal and uncontrollable growth, disrupting normal plant functions, resulting in death.8
Auxins are a class of phytohormones that are involved in plant developmental processes that occur at the cellular level, affecting cellular elongation and turgor, as well as cellular differentiation and division.7
Non-target Organisms
Chlorophenoxy herbicides display a wide variety of mechanisms of toxicity to non-target organisms, including disruption of acetylcoenzyme A metabolism, uncoupling of oxidative phosphorylation and dose-dependent cell damage.9
Dicamba induced a significant increase in the frequency of sister chromatid exchanges (SCEs) in human lymphocytes at 200 μg/ml. At 500 μg/ml, dicamba was cytotoxic.10
In isolated Wistar rat liver mitochondria, dicamba was shown to reduce the energy production efficiency of the cells, which may account for some toxic effects observed.11
Oral
The acute oral LD50 in rats varies by strains and gender. The acute oral LD50 of technical grade dicamba in male semi-adult Wistar rats was 757 mg/kg. Pure dicamba has an acute oral LD50 of 2560 mg/kg in semi-adult Wistar females.12 See the text boxes on Toxicity Classification and LD50/LC50.

LD50/LC50: A common measure of acute toxicity is the lethal dose (LD50) or lethal concentration (LC50) that causes death (resulting from a single or limited exposure) in 50 percent of the treated animals. LD50 is generally expressed as the dose in milligrams (mg) of chemical per kilogram (kg) of body weight. LC50 is often expressed as mg of chemical per volume (e.g., liter (L)) of medium (i.e., air or water) the organism is exposed to. Chemicals are considered highly toxic when the LD50/LC50 is small and practically non-toxic when the value is large. However, the LD50/LC50 does not reflect any effects from long-term exposure (i.e., cancer, birth defects or reproductive toxicity) that may occur at levels below those that cause death.

In male adult Sherman rats, the acute oral LD50 for dicamba was 1401 mg/kg and 1039 mg/kg for females. In weanling male Sherman rats 4-6 weeks of age, the acute oral LD50 for dicamba was 3294 mg/kg.13
In female Tuck mice, the acute oral LD50 of technical grade dicamba was reported to be 1189 mg/kg. The LD50 of formulated dicamba in male and female rabbits and in male albino guinea pigs was 566 mg/kg.12
In male albino rats, the reported LD50 for dicamba was 2740 mg/kg.3
TOXICITY CLASSIFICATION - DICAMBA
High Toxicity
Moderate Toxicity
Low Toxicity
Very Low Toxicity
Acute Oral LD50
Up to and including 50 mg/kg
(≤ 50 mg/kg)
Greater than 50 through 500 mg/kg
(>50-500 mg/kg)
Greater than 500 through 5000 mg/kg
(>500-5000 mg/kg)
Greater than 5000 mg/kg
(>5000 mg/kg)
Inhalation LC50
Up to and including 0.05 mg/L
(≤0.05 mg/L)
Greater than 0.05 through 0.5 mg/L
(>0.05-0.5 mg/L)
Greater than 0.5 through 2.0 mg/L
(>0.5-2.0 mg/L)
Greater than 2.0 mg/L
(>2.0 mg/L)
Dermal LD50
Up to and including 200 mg/kg
(≤200 mg/kg)
Greater than 200 through 2000 mg/kg
(>200-2000 mg/kg)
Greater than 2000 through 5000 mg/kg
(>2000-5000 mg/kg)
Greater than 5000 mg/kg
(>5000 mg/kg)
Primary Eye Irritation
Corrosive (irreversible destruction of ocular tissue) or corneal involvement or irritation persisting for more than 21 days
Corneal involvement or other eye irritation clearing in 8 - 21 days
Corneal involvement or other eye irritation clearing in 7 days or less
Minimal effects clearing in less than 24 hours
Primary Skin Irritation
Corrosive (tissue destruction into the dermis and/or scarring)
Severe irritation at 72 hours (severe erythema or edema)
Moderate irritation at 72 hours (moderate erythema)
Mild or slight irritation at 72 hours (no irritation or erythema)
The highlighted boxes reflect the values in the "Acute Toxicity" section of this fact sheet. Modeled after the U.S. Environmental Protection Agency, Office of Pesticide Programs, Label Review Manual, Chapter 7: Precautionary Labeling. https://www.epa.gov/sites/default/files/2018-04/documents/chap-07-mar-2018.pdf
Dermal
The acute dermal LD50 in rats was greater than 2000 mg/kg. The United States Environmental Protection Agency (U.S. EPA) considers dicamba to be low in dermal toxicity.3
Dicamba caused moderate skin and eye irritation in rabbits. The U.S. EPA considers dicamba to be moderately toxic to the skin and eyes.3
In studies with guinea pigs, dicamba did not cause skin sensitization and the U.S. EPA has classified dicamba as a nonsensitizer.3
Inhalation
The acute inhalation LC50 in rats was determined to be equal to or greater than 5.3 mg/L. The U.S. EPA determined that dicamba was very low in toxicity when inhaled.3
Signs of Toxicity - Animals
Signs of dicamba-induced toxicosis in animals include shortness of breath, muscle spasms, cyanosis, urinary incontinence and collapse.14 Additionally, salivation with tympanism (excessive gas in the gastrointestinal tract) along with possible depression and convulsions may occur.15
English Pointer dogs exhibited abnormal muscular activity in the biceps brachii, cranial tibial and quadriceps muscles following oral exposure to dicamba. Myotonia (persistent contraction of muscles after electrical stimulation has ceased) was also observed.16
As a result of a single oral dose of DMA dicamba, bobwhite quail exhibited symptoms such as wing droop, loss of coordination, weakness, abnormal gait, rigidity of the legs and lethargy.17
Signs of Toxicity - Humans
Animals
When researchers fed dicamba to rats for 90 days, no effects were observed at doses up to approximately 500 mg/kg/day. At doses near 1000 mg/kg/day, lower body weight gains, and changes in the liver's weight, color and size were noted.18
A commercial product containing dicamba was fed to rats at concentrations up to 1% of the diet for three weeks. Dicamba was shown to be a peroxisome proliferator, which may increase the risk of hepatic tumors.19
When researchers applied dicamba to the skin of rabbits at levels of 0, 40, 200 or 1000 mg/kg/day for 21 days, dose dependent dermal irritation was observed at the site of application. No systemic toxicity was observed.20
Humans
No information was found concerning the chronic toxicity of dicamba in humans.
The U.S. EPA found no evidence of dicamba having endocrine disrupting effects.3
No additional literature was found evaluating dicamba's potential activity as an endocrine disruptor.
Animals
Male and female rats were fed dicamba for over two years at doses of 0, 50, 250 or 2500 ppm. There were no treatment-related effects observed on survival, body weight gain or food consumption. There was a slight increase in malignant lymphomas and thyroid parafollicular cell carcinomas in males. However, this was not significantly different from controls.18
Humans
The U.S. EPA has determined that dicamba is not likely to be a human carcinogen.3
In an epidemiological study examining the cancer rate among pesticide applicators reporting the use of dicamba, exposure was not associated with any significant increase in cancer incidence. Weak associations were observed for lung and colon cancer.21 See the text box on Cancer.
Cancer: Government agencies in the United States and abroad have developed programs to evaluate the potential for a chemical to cause cancer. Testing guidelines and classification systems vary. To learn more about the meaning of various cancer classification descriptors listed in this fact sheet, please visit the appropriate reference, or call NPIC.
Animals
Male and female rats were fed dicamba at 0, 500, 1500 and 5000 ppm in the diet in a two-generation reproduction study. At 5000 ppm, systemic toxicity was observed in both sexes. Decreased pup growth and delayed sexual maturity in males were observed at the two highest concentrations. Additionally, delayed sexual maturity was observed in male offspring. As a result, the reproductive toxicity NOAEL was 500 ppm and the LOAEL was 1500 ppm.20 See the text box on NOAEL, NOEL, LOAEL, and LOEL.

NOAEL: No Observable Adverse Effect Level

NOEL: No Observed Effect Level

LOAEL: Lowest Observable Adverse Effect Level

LOEL: Lowest Observed Effect Level

In a developmental toxicity study, pregnant female rats received oral daily doses of technical grade dicamba on day 6 through day 19 of gestation. Doses were 0, 64, 160 or 400 mg/kg. Maternal toxicity was observed only at the highest dose. Signs of neurotoxicity in survivors included ataxia, decreased motor activity, salivation and death. Examination of developing fetuses revealed no gross malformations; the developmental NOAEL is greater than 400 mg/kg/day.20
Dicamba induced maternal toxicity in rats. Signs of toxicity included decreased weight gain and decreased food consumption. No treatment-related effects were observed in the fetuses. The maternal NOAEL was 160 mg/kg/day and the fetal NOAEL was established at greater than 400 mg/kg/day.22
When mouse embryos were exposed to dicamba at 0.030 μg/mL, dicamba significantly lowered the number and size of surviving embryos.23
Pregnant rabbits were exposed to dicamba in a two-generation teratology study and treatment-related effects include abortions, decreased food consumption and decreased weight gain. Developmental effects included irregular ossification of nasal bones. The maternal NOAEL was 30 mg/kg/day and the maternal LOAEL was 150 mg/kg/day. The fetal developmental NOAEL was 150 mg/kg/day, with a LOAEL of 300 mg/kg/day.22
Humans
No human data were found on the teratogenic or reproductive effects of dicamba.
Absorption
Skin absorption of dicamba is low.24 When ingested, dicamba is absorbed and rapidly excreted in the urine.25
Dicamba and its 3,5-dichloro isomer were applied separately to shaved rats. Results indicated that 0.72 μg/ml dicamba was detected in blood one hour after administration and subsequently, levels rapidly declined. Results for dicamba's 3,5-dichloro isomer indicate the concentrations in blood increased for nine hours, then decreased slowly.26
Researchers fed adult Bengal goats a single dose of 1400 mg/kg DMA dicamba. Hematological results indicated that DMA dicamba reached maximum levels in the blood 15 minutes post administration with a concentration of 102.3 μg/mL. Two days after administration, DMA dicamba was not detected in the blood.27
Distribution
Rats were fed diets with radioactively labeled dicamba at concentrations ranging from 10 to 10,000 ppm. Dicamba was distributed in all tissues examined, including the liver, kidney, blood, muscle and fat. In general, aqueous tissues had higher residue than fatty tissues.25
A lactating cow was fed 60 ppm dicamba for five days (2.2 mg/kg/day). Results of tissue analysis indicated that the kidney is the major site of deposition for dicamba, followed by blood, then the liver. Among liver residues, 51% was unchanged dicamba.24
The distribution of DMA dicamba was examined in Bengal goats by examining the concentrations in various tissues following an oral dose of 1400 mg/kg. On day four following administration, 4-12 μg/g were recovered from skin, reticulum, muscle, heart, adrenal gland and spleen. By day seven, DMA dicamba was cleared from most tissues, leaving only trace amounts.27
Metabolism
Dicamba's metabolism in animals is limited. In mammals, o-demethylation and decarboxylation have been observed.28 When dicamba was injected or fed to rats, over 90% of the dose was recovered in the urine unchanged. About 20% of recovered dicamba was conjugated with glucoronic acid.25
A lactating cow was fed 60 ppm dicamba for five days (2.2 mg/kg/day). Among liver residues, 51% was dicamba, and 21% was comprised of 3,6-dichloro-2-hydroxybenzoic acid (DCHBA) and two unidentified metabolites. In the kidney, 70% of the total deposited was dicamba, with 11% DCHBA. Most of the excreted product was unchanged dicamba. However, the major metabolite detected in the urine and feces was 3,6-dichloro-2-hydroxybenzoic acid (DCHBA), produced by the aryl- O-demethylation of the parent compound. The minor metabolites, 2,5-dichlorophenol and a glucoronide conjugate of DCHBA, were found in urine. DCHBA was the only metabolite detected in milk.24
Excretion
Researchers analyzed over 400 urine samples from the general population in the National Health and Nutritional Examination Survey II (NHANESII) for the presence of dicamba and it was not detected in any sample.29
In a national study of professional pesticide applicators following a pesticide application, 12- and 24 hour urine samples were analyzed by High Performance Liquid Chromatography/ Mass Spectrometry/Mass Spectrometry (HPLC/MS/MS). In approximately 50% of all samples, dicamba residues were below the limit of detection (1 ppb) and the maximum concentration detected in all samples was 4.8 ppb.30
Soil
Microbial action promotes the degradation of dicamba in soil by a variety of processes, including O-demethylation, hydroxylation, and dechlorination.28 The half-life of in soil ranges from 30-60 days in soil. See the text box on Half-life.

The "half-life" is the time required for half of the compound to break down in the environment.

1 half-life = 50% remaining
2 half-lives = 25% remaining
3 half-lives = 12% remaining
4 half-lives = 6% remaining
5 half-lives = 3% remaining

Half-lives can vary widely based on environmental factors. The amount of chemical remaining after a half-life will always depend on the amount of the chemical originally applied. It should be noted that some chemicals may degrade into compounds of toxicological significance.

The major decomposition product of dicamba in aerobic soil is 3,6-dichlorosalicyclic acid (3,6-DCSA) and a minor decomposition product is 2,5-dihydroxy-3,6-dichlorosalicyclic acid. The production of CO2 is also associated with the degradation of dicamba.5
The degradation of dicamba was examined in two forest-type soils and a grassland-type from Oklahoma. The half-life for dicamba in the two forest-types soils was 32 and 26 days, respectively, while the half-life in grassland soil was 17 days.31
When tested on agricultural soil from the Midwest, the half-life of dicamba under aerobic conditions was 31 days and under anaerobic conditions, the half-life was 58 days. The major metabolite produced under both conditions was 3,6-dichlorosalicyclic acid.32 In another study, almost no breakdown of 14C dicamba occurred in sterile soils after 9 weeks, suggesting the need for a microbial population capable of metabolizing dicamba.33
The effect of water content on the soil sorption characteristics of dicamba was examined. Generally, dicamba's soil sorption coefficient increased substantially with an increase in initial water content. Soil sorption coefficients ranges from 0.0 to 0.8. Thus, dicamba is expected to be highly mobile in soils.34
Water
Air
Dicamba has volatilized under field conditions and injured non-target crops. In growth chamber experiments, the acid form was most volatile, and the inorganic salts were least volatile. In field experiments with the less volatile forms of dicamba, potted soybeans showed symptoms of injury when exposed to the vapors of treated corn up to 60 meters away.38
Plants
Indoor
Dicamba has been found in the dust of New York farmer's homes in the range from 0 to 2.7 μg/m2.43 Dicamba has also been detected in almost 29% of house dust samples taken from homes near crop fields in Iowa. The average concentration of dicamba in those dust samples was 30.1 ng/g.44
No information was found about the breakdown or metabolism of dicamba indoors.
Food Residue
In 2008, the United States Department of Agriculture's (USDA) Pesticide Data Program examined 744 samples of potatoes, 744 samples of spinach, and 439 samples of strawberries for the presence of dicamba. Residues were not detected in any sample. Dicamba was detected at 94 ppt in one of 189 treated water samples. In two of 189 untreated water samples, dicamba was detected at concentrations of 50 and 91 ppt.45
In 2009, the USDA's Pesticide Data Program examined 534 samples of grapes and 534 samples of strawberries for the presence of dicamba. Residues were not detected in any sample. Additionally, dicamba was not detected in 238 drinking water samples, half of which were untreated.46
The United States Food and Drug Administration (FDA) market basket study examined over 400 foods for pesticide residues including dicamba. Dicamba was found in 23 of 44 oat ring breakfast cereal samples with an average concentration of 0.004 ppm.47
Birds
Dicamba is slightly to moderately toxic to birds in the acid form. Based on feeding studies dicamba salts are practically non-toxic to birds.
The acute oral LD50 of technical grade dicamba with 87% active ingredient to the northern bobwhite (Colinus virginianus) is 216 mg/kg.17
In an 8-day dietary study involving 14-day old mallard ducks (Anas platyrhynchos), researchers determined that dicamba's 8-day LC50 was greater than 10,000 mg/kg and no effects were observed at concentrations below 4640 mg/kg.48
In a 14-day oral gavage experiment with mallard ducks, dicamba was slightly toxic, with an LD50 of 1373 mg ae/kg (acid equivalent).49 Another researcher conducted the same study with DMA dicamba. It was practically non-toxic to mallard ducks; the oral LD50 was greater than 2452 ppm.50
Fish and Aquatic Life
Terrestrial Invertebrates
Dicamba's toxicity to honey bees ranges from moderately toxic to practically non-toxic, based on U.S. EPA values.67
When researchers fed dicamba to newly emerged honey bees (Apis mellifera) at concentrations up to 1000 ppm, no significant difference in survival was observed.68 The acute contact 48-hour LD50 for dicamba to honey bees was greater than 90.65 μg/bee and the acute oral LD50 was 3.6 μg/bee.69
Researchers evaluated the toxicity of dicamba to worker honey bees when exposed to dicamba on contact or by ingestion. Less than half of the bees died at all doses tested. The contact LD50 was greater than 100 μg/bee and the oral LD50 was greater than 10 μg/bee.70
Date Reviewed: January 2012
Please cite as: Bunch, T. R; Gervais, J. A.; Buhl, K.; Stone, D. 2012. Dicamba Technical Fact Sheet; National Pesticide Information Center, Oregon State University Extension Services.. http://npic.orst.edu/factsheets/archive/dicamba_tech.html.