As of 2011, NPIC stopped creating technical pesticide fact sheets. The old collection of technical fact sheets will remain available in this archive, but they may contain out-of-date material. NPIC no longer has the capacity to consistently update them. To visit our general fact sheets, click here. For up-to-date technical fact sheets, please visit the Environmental Protection Agency's webpage.
Laboratory Testing: Before pesticides are registered by the U.S. EPA, they must undergo laboratory testing for short-term (acute) and long-term (chronic) health effects. Laboratory animals are purposely given high enough doses to cause toxic effects. These tests help scientists judge how these chemicals might affect humans, domestic animals, and wildlife in cases of overexposure.
Molecular Structure - Acephate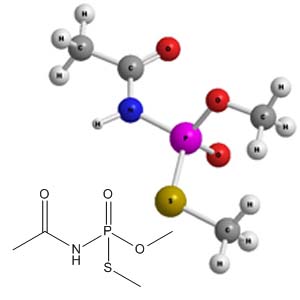 Acephate is an organophosphate insecticide.1 The International Union of Pure and Applied Chemistry (IUPAC) chemical name for acephate is O,S-Dimethyl acetylphosphoramidothioate2, and the Chemical Abstracts Service (CAS) registry number is 30560-19-1.1
Acephate was first registered for use by the United States Environmental Protection Agency (U.S. EPA) in 1973. Reregistration for acephate was granted in July 2006.1 See the text box on Laboratory Testing.
In soil, plants, and insects, acephate is converted to methamidophos. Methamidophos is another organophosphate insecticide that is registered by the U.S. EPA.1
Technical grade acephate is a white or transparent solid.1 Acephate has a strong odor similar to mercaptan, which smells like sulfur.3
Vapor pressure1: 1.7 x 10-6 mmHg at 24 °C
Octanol-Water Partition Coefficient (Kow)4: 0.13 at 25 °C
Henry's constant5,6: 3.1 x 10-7 atm·m3/mol; 5.1 x 10-13 atm mole/m3
Molecular weight1: 183.16 g/mol
Solubility (water)1,6: 79 - 83.5 g/100 mL
Soil Sorption Coefficient (Koc)2,6: 2; 2.7
Acephate is a general-use insecticide registered for use on food crops, agricultural seed and non-bearing plants, institutions and commercial buildings including public health facilities, sod, golf course turf, ant mounds, and horticultural nursery plants.1
Signal words for products containing acephate may range from Caution to Danger. The signal word reflects the combined toxicity of the active ingredient and other ingredients in the product. See the pesticide label on the product and refer to the NPIC fact sheets on Signal Words and Inert or "Other" Ingredients.
To find a list of products containing acephate which are registered in your state, visit the website http://npic.orst.edu/reg/state_agencies.html select your state then click on the link for "State Products."
Target Organisms
Acephate is a systemic insecticide used to control sucking and biting insects by direct contact or ingestion.7,8
Organophosphates such as acephate bind to and inhibit the enzyme acetylcholinesterase (AChE) in nervous system tissues. As a result, the neurotransmitter acetylcholine accumulates and repeatedly activates cholinergic receptors.9,10 Acephate itself is a weak acetylcholinesterase inhibitor.11 Methamidophos is a more potent organophosphate than acephate.10 Insects metabolize acephate into methamidophos by hydrolysis, whereas mammals metabolize acephate more readily into des- O-methylacephate, accounting for acephate's relatively high selectivity against insects.2,12,13
Methamidophos inhibits acetylcholinesterase through phosphorylation.12 Acetylcholine is the prominent insect stimulatory neurotransmitter for motor, sensory, and intermediate neurons,14 and is broken down by acetylcholinesterase.15 Organophosphates cause acetylcholine levels to increase and over-excite target nerves, muscles or tissues.10
Non-target Organisms
LD50/LC50: A common measure of acute toxicity is the lethal dose (LD50) or lethal concentration (LC50) that causes death (resulting from a single or limited exposure) in 50 percent of the treated animals. LD50 is generally expressed as the dose in milligrams (mg) of chemical per kilogram (kg) of body weight. LC50 is often expressed as mg of chemical per volume (e.g., liter (L)) of medium (i.e., air or water) the organism is exposed to. Chemicals are considered highly toxic when the LD50/LC50 is small and practically non-toxic when the value is large. However, the LD50/LC50 does not reflect any effects from long-term exposure (i.e., cancer, birth defects or reproductive toxicity) that may occur at levels below those that cause death.
Oral
The oral LD50 for acephate is 1.4 g/kg in male rats, and 1.0 g/kg in female rats.1 Acephate is low in toxicity when eaten. See the text boxes on Toxicity Classification and LD50/LC50.
The lowest lethal dose observed in a study of Beagle dogs was 680 mg/kg.20
Human volunteers ingested a single dose of acephate. No physiological changes were observed at the highest doses tested, 1.2 mg/kg in men and 1.0 mg/kg in women.20 See the text box on NOAEL, NOEL, LOAEL, and LOEL.
TOXICITY CLASSIFICATION - ACEPHATE
High Toxicity
Moderate Toxicity
Low Toxicity
Very Low Toxicity
Acute Oral LD50
Up to and including 50 mg/kg
(≤ 50 mg/kg)
Greater than 50 through 500 mg/kg
(>50-500 mg/kg)
Greater than 500 through 5000 mg/kg
(>500-5000 mg/kg)
Greater than 5000 mg/kg
(>5000 mg/kg)
Inhalation LC50
Up to and including 0.05 mg/L
(≤0.05 mg/L)
Greater than 0.05 through 0.5 mg/L
(>0.05-0.5 mg/L)
Greater than 0.5 through 2.0 mg/L
(>0.5-2.0 mg/L)
Greater than 2.0 mg/L
(>2.0 mg/L)
Dermal LD50
Up to and including 200 mg/kg
(≤200 mg/kg)
Greater than 200 through 2000 mg/kg
(>200-2000 mg/kg)
Greater than 2000 through 5000 mg/kg
(>2000-5000 mg/kg)
Greater than 5000 mg/kg
(>5000 mg/kg)
Primary Eye Irritation
Corrosive (irreversible destruction of ocular tissue) or corneal involvement or irritation persisting for more than 21 days
Corneal involvement or other eye irritation clearing in 8 - 21 days
Corneal involvement or other eye irritation clearing in 7 days or less
Minimal effects clearing in less than 24 hours
Primary Skin Irritation
Corrosive (tissue destruction into the dermis and/or scarring)
Severe irritation at 72 hours (severe erythema or edema)
Moderate irritation at 72 hours (moderate erythema)
Mild or slight irritation at 72 hours (no irritation or erythema)
The highlighted boxes reflect the values in the "Acute Toxicity" section of this fact sheet. Modeled after the U.S. Environmental Protection Agency, Office of Pesticide Programs, Label Review Manual, Chapter 7: Precautionary Labeling. https://www.epa.gov/sites/default/files/2018-04/documents/chap-07-mar-2018.pdf
Dermal
NOAEL: No Observable Adverse Effect Level
NOEL: No Observed Effect Level
LOAEL: Lowest Observable Adverse Effect Level
LOEL: Lowest Observed Effect Level
Inhalation
Signs of Toxicity - Animals
Signs of Toxicity - Humans
Animals
Humans
Fourteen volunteers ingested mixtures of acephate and methamidophos. Plasma cholinesterase inhibition was observed, and the LOAEL was established for a 1:4 ratio of methamidophos:acephate at 0.2 mg/kg/day in both sexes after 16 days of administration.25 No other changes were observed. Cholinesterase activities returned to normal within seven days.17 See the text box on Exposure.

Exposure: Effects of acephate on human health and the environment depend on how much acephate is present and the length and frequency of exposure. Effects also depend on the health of a person and/or certain environmental factors.

Ten male volunteers each ingested 0.25 mg/kg/day acephate for 28 days. No acetylcholinesterase inhibition, clinical or physiological changes were observed.20
The intermediate syndrome has been attributed to methamidophos following acute, symptomatic poisoning. Health effects from intermediate syndrome may include limb, neck, and respiratory muscle weakness, or death. Intermediate syndrome onset begins a day or more after initial acute symptoms begin or resolve and may last 30 to 40 days. No cases linking these conditions to acephate were found.
Organophosphate-induced delayed (poly)neuropathy (OPIDN) has been reported from methamidophos exposure. OPIDN onset is two or three weeks after some acute poisonings, and has only been observed in cases with acute cholinergic symptoms. OPIDN effects may include leg muscle pain, followed by numbness, weakness or paresthesia beginning in the feet and sometimes hands.30
Animals
Humans
The U.S. EPA designated acephate as Group C, possible human carcinogen based on increases in liver adenomas and carcinomas in female mice that ate acephate.28 See the text box on Cancer.

Cancer: Government agencies in the United States and abroad have developed programs to evaluate the potential for a chemical to cause cancer. Testing guidelines and classification systems vary. To learn more about the meaning of various cancer classification descriptors listed in this fact sheet, please visit the appropriate reference, or call NPIC.

No human data were found on carcinogenic effects of acephate.28
Methamidophos is not likely to be a human carcinogen according to U.S. EPA classification.37
Animals
Humans
No human data were found on the teratogenic or reproductive effects of acephate.
Absorption
When acephate is eaten, it is quickly absorbed from the gastrointestinal tract in rats and humans.20,38
Acephate is readily absorbed by the skin of rats.17,39,40
Acephate in aerosol formulations is absorbed by inhalation.17
Distribution
In rats, dermally absorbed acephate is distributed into the blood. Blood concentrations of acephate were highest 1 to 3 hours after exposure.39,40
In rats given acephate by oral gavage, acephate evenly distributes to tissues according to their level of blood circulation. Accordingly, highest acephate concentrations were found in the skin, liver, kidney and heart, and were comparable to blood plasma acephate concentrations.20
In two human deaths involving presumed intentional ingestion, acephate was detected most in the stomach and urine, and in lesser amounts in blood. One of the subjects had ingested 100 mL or less of a product containing 17.25% acephate. The ratios of methamidophos to acephate in the stomach, urine and blood were at or below 2:100.41
Metabolism
Excretion
The "half-life" is the time required for half of the compound to break down in the environment.
1 half-life = 50% remaining
2 half-lives = 25% remaining
3 half-lives = 12% remaining
4 half-lives = 6% remaining
5 half-lives = 3% remaining
Half-lives can vary widely based on environmental factors. The amount of chemical remaining after a half-life will always depend on the amount of the chemical originally applied. It should be noted that some chemicals may degrade into compounds of toxicological significance.
Soil
Water
Air
Acephate is not volatile in ambient conditions.4 In one study, creek and pond water with added acephate were isolated in flasks in laboratory conditions, and no acephate or methamidophos were detected from the air for up to fifty days.48
At air saturation in environmental temperatures, acephate would be present in the air at 0.002 ppm.4
Plants
Indoor
No data regarding the indoor environmental fate of acephate were found.
Food Residue
Birds
Fish and Aquatic Life
Terrestrial Invertebrates
Acephate and methamidophos are highly toxic to bees and other beneficial insects. The LD50 for acephate was 1.2 μg/ honey bee. The LD50 of methamidophos was 1.37 μg/honey bee.1
In one study, bee colonies were fed sugar syrup treated with 0.25, 0.5, or 1.0 ppm acephate for 14 days.49 At 0.25 ppm, the number of eggs was reduced.49 At higher doses, some queens stopped laying eggs, others were lost.49 At 1 ppm levels, bee flight activity and foraging were slowed.49 Over time, other effects were observed in all treatment groups, including decreases in larvae and pupae rearing, newly built comb, feeding and food storage.49
A product containing acephate was applied to three sites in a stream in British Columbia, Canada for five hours at levels amounting to 1000 ppb.47 The highest level of acephate was 1189.5 ppb, detected in insects two and a half hours after the application began. About two hours after the treatment, acephate was found in insects at only trace levels and was undetectable at 24 hours.47 Acephate levels in insects were comparable to nearby water, about ten times higher than those found in fish or sediment, and highest in stream bottom insects compared to insects in cages.47 No insect deaths were observed in this study.47

Reference Dose (RfD): The RfD is an estimate of the quantity of chemical that a person could be exposed to every day for the rest of their life with no appreciable risk of adverse health effects. The reference dose is typically measured in milligrams (mg) of chemical per kilogram (kg) of body weight per day.

U.S. Environmental Protection Agency, Integrated Risk Information System, IRIS Glossary, 2009. https://www.epa.gov/iris/iris-glossary#r
Date Reviewed: June 2011
Please cite as: Christiansen, A.; Gervais, J.; Buhl, K.; Stone, D. 2011. Acephate Technical Fact Sheet; National Pesticide Information Center, Oregon State University Extension Services. http://npic.orst.edu/factsheets/archive/acephatech.html.