As of 2011, NPIC stopped creating technical pesticide fact sheets. The old collection of technical fact sheets will remain available in this archive, but they may contain out-of-date material. NPIC no longer has the capacity to consistently update them. To visit our general fact sheets, click here. For up-to-date technical fact sheets, please visit the Environmental Protection Agency's webpage.
Molecular Structure -
Paradichlorobenzene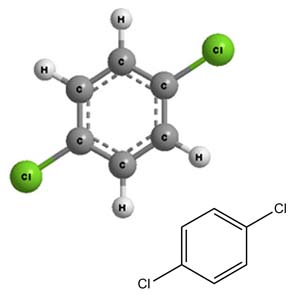 Laboratory Testing: Before pesticides are registered by the U.S. EPA, they must undergo laboratory testing for short-term (acute) and long-term (chronic) health effects. Laboratory animals are purposely given high enough doses to cause toxic effects. These tests help scientists judge how these chemicals might affect humans, domestic animals, and wildlife in cases of overexposure.
Paradichlorobenzene is a chlorinated aromatic hydrocarbon compound used as a fumigant insecticide and repellant.1 The International Union of Pure and Applied Chemistry (IUPAC) name for paradichlorobenzene is 1,4-dichlorobenzene. The Chemical Abstracts Service (CAS) registry number is 106-46-7.1
Paradichlorobenzene was first registered for use in the United States by the United States Department of Agriculture (USDA) in 1947.1 See the text box on Laboratory Testing.
There are three forms of dichlorobenzene, differing in the position of the two chlorine atoms on the benzene ring. 1,2-dichlorobenzene and 1,3-dichlorobenzene have been used to manufacture herbicides in addition to other products. 1,4-dichlorobenzene (paradichlorobenzene) is used as an insecticide.2 This fact sheet will address the para form unless otherwise noted.
Paradichlorobenzene is primarily used in mothballs and similar products to protect clothing from moths.1 Uses for individual paradichlorobenzene products vary widely. Always read and follow the label when applying pesticide products.
Paradichlorobenzene is also used in deodorant blocks for rest room toilets and trash containers.2
Signal words for products containing paradichlorobenzene may range from Caution to Danger. The signal word reflects the combined toxicity of the active ingredient and other ingredients in the product. See the pesticide label on the product and refer to the NPIC fact sheets on Signal Words and Inert or "Other" Ingredients.
To find a list of products containing paradichlorobenzene which are registered in your state, visit the website http://npic.orst.edu/reg/state_agencies.html select your state then click on the link for "State Products."
Target Organisms
Paradichlorobenzene vapor is toxic to insects, molds, mildews, and it acts as a deodorizer.2,3 No information was found on the precise mode of action of paradichlorobenzene on target organisms.
Non-target Organisms
The mode of action of paradichlorobenzene on non-target organisms is not precisely known, but may involve the binding of its oxidative metabolites such as the epoxide to proteins within the cells of mammals. Dichlorophenol, a product of epoxide hydrolysis, may be involved in nephropathy. Other metabolites such as quinones and hydroquinones may be responsible for the hepatotoxicity of paradichlorobenzene.3
Recent work with paradichlorobenzene and human neuroblastoma SH-SY5Y cells in vitro suggested that paradichlorobenzene can act on the nicotinic acetylcholine receptor and appears to affect neuronal calcium ion homeostasis. Researchers noted that the concentrations of paradichlorobenzene observed to interfere with calcium homeostasis have been found in vivo in plasma, adipose, and liver tissues.7
Oral
The acute oral LD50 of paradichlorobenzene in male rats is 3863 mg/kg for males and 3790 mg/kg for females.8 Based on these values, paradichlorobenzene is low in toxicity via oral exposure.1 See the text boxes on Toxicity Classification and LD50/LC50.

LD50/LC50: A common measure of acute toxicity is the lethal dose (LD50) or lethal concentration (LC50) that causes death (resulting from a single or limited exposure) in 50 percent of the treated animals. LD50 is generally expressed as the dose in milligrams (mg) of chemical per kilogram (kg) of body weight. LC50 is often expressed as mg of chemical per volume (e.g., liter (L)) of medium (i.e., air or water) the organism is exposed to. Chemicals are considered highly toxic when the LD50/LC50 is small and practically non-toxic when the value is large. However, the LD50/LC50 does not reflect any effects from long-term exposure (i.e., cancer, birth defects or reproductive toxicity) that may occur at levels below those that cause death.
Dermal
Inhalation
Signs of Toxicity - Animals
Companion animals who have eaten mothballs have suffered kidney and liver damage. Behavioral signs include abdominal pain, vomiting, seizures and tremors.13
TOXICITY CLASSIFICATION - PARADICHLOROBENZENE
High Toxicity
Moderate Toxicity
Low Toxicity
Very Low Toxicity
Acute Oral LD50
Up to and including 50 mg/kg
(≤ 50 mg/kg)
Greater than 50 through 500 mg/kg
(>50-500 mg/kg)
Greater than 500 through 5000 mg/kg
(>500-5000 mg/kg)
Greater than 5000 mg/kg
(>5000 mg/kg)
Inhalation LC50
Up to and including 0.05 mg/L
(≤0.05 mg/L)
Greater than 0.05 through 0.5 mg/L
(>0.05-0.5 mg/L)
Greater than 0.5 through 2.0 mg/L
(>0.5-2.0 mg/L)
Greater than 2.0 mg/L
(>2.0 mg/L)
Dermal LD50
Up to and including 200 mg/kg
(≤200 mg/kg)
Greater than 200 through 2000 mg/kg
(>200-2000 mg/kg)
Greater than 2000 through 5000 mg/kg
(>2000-5000 mg/kg)
Greater than 5000 mg/kg
(>5000 mg/kg)
Primary Eye Irritation
Corrosive (irreversible destruction of ocular tissue) or corneal involvement or irritation persisting for more than 21 days
Corneal involvement or other eye irritation clearing in 8 - 21 days
Corneal involvement or other eye irritation clearing in 7 days or less
Minimal effects clearing in less than 24 hours
Primary Skin Irritation
Corrosive (tissue destruction into the dermis and/or scarring)
Severe irritation at 72 hours (severe erythema or edema)
Moderate irritation at 72 hours (moderate erythema)
Mild or slight irritation at 72 hours (no irritation or erythema)
The highlighted boxes reflect the values in the "Acute Toxicity" section of this fact sheet. Modeled after the U.S. Environmental Protection Agency, Office of Pesticide Programs, Label Review Manual, Chapter 7: Precautionary Labeling. https://www.epa.gov/sites/default/files/2018-04/documents/chap-07-mar-2018.pdf
Signs of Toxicity - Humans
Animals
Humans
Workers at a manufacturing plant were exposed to up to 550 ppm of paradichlorobenzene in the course of their work. Workers were exposed eight hours a day, five days a week, for employment durations ranging from eight months to 25 years. No hematological effects or eye damage such as cataracts were noted during medical examinations.5 See the text box on Exposure.
A 32-year-old woman reported consuming at least one paradichlorobenzene mothball per day for two years. Signs included dementia, difficulty speaking, ataxia (lack of coordination), hyperreflexia, distal limb weakness, and skin scaling. Blood plasma contained 34 μg/ml paradichlorobenzene.23
Twin girls aged 18 years were hospitalized after sniffing paradichlorobenzene mothballs daily for 5-10 minutes per day for a few weeks in the case of one twin and 4-6 months in the other. Signs included intracranial hyptertension, unsteady gait, urinary retention, and neurological symptoms. Total recovery occurred after three and six months, respectively.24
Exposure: Effects of paradichlorobenzene on human health and the environment depend on how much paradichlorobenzene is present and the length and frequency of exposure. Effects also depend on the health of a person and/or certain environmental factors.
Researchers evaluated paradichlorobenzene's endocrine-disrupting potential using a yeast estrogen screen. Following nine days of incubation, paradichlorobenzene treatment caused dose-dependent increases in β-galactosidase production similar to 17β-estradiol, a human estrogen hormone.25
In the same study, adult male and female zebrafish (Danio rerio) were exposed to 10, 18, 32, or 56 mg/L paradichlorobenzene for 96 hours. Other fish were exposed to 0.32, 1.0, 3.2, 10.0, or 32.0 mg/L 17α-ethynylestradiol (EE2), which was used as a positive control.25 Researchers estimated that paradichlorobenzene had a relative potency of 2.2 x 10-7 relative to 17β-estradiol.25
Researchers exposed other adult male and female zebrafish to 1.0, 3.2, 10, and 32 mg/L paradichlorobenzene or 5, 10, 50, or 100 ng/L EE2 as a positive control for 2 weeks.25 Fish exposed to EE2 or 32 mg/L paradichlorobenzene exhibited edema in their peritoneal cavities and lacked developed gonads and intact eggs.25 Fish exposed to 10 or 32 mg/L paradichlorobenzene and all dose levels of EE2 also had significantly reduced gonad weight relative to overall body weight.25
Animals
Humans
The Health Effects Division (HED) Cancer Assessment Review Committee (CARC) of the U.S. EPA has classified paradichlorobenzene as not likely to be carcinogenic to humans.1 See the text box on Cancer.

Cancer: Government agencies in the United States and abroad have developed programs to evaluate the potential for a chemical to cause cancer. Testing guidelines and classification systems vary. To learn more about the meaning of various cancer classification descriptors listed in this fact sheet, please visit the appropriate reference, or call NPIC.

The International Agency for Research on Cancer (IARC) of the World Health Organization concluded that paradichlorobenzene is possibly carcinogenic to humans, classifying it into Group 2B. The conclusion was based on greater incidences of liver tumors in exposed mice, and a suggested mechanism of carcinogenicity that could plausibly occur in humans.31
Animals
Rats and rabbits inhaled 50, 200, or 600 ppm for an unspecified period of time. At the two highest doses, food consumption and maternal body weight gain declined. Young born to animals dosed with 600 ppm displayed delayed cervical ossification.32
Rabbits inhaled paradichlorobenzene vapors at 100, 300, or 800 ppm for an unspecified period of time. No teratogenic effects were noted, but mother rabbits in the highest dose group gained less weight than controls. Development of one of the major arteries on the aorta was altered in young born to the rabbits in the 800 ppm dose group.33
Researchers performed a two-generation reproductive study on rats, exposing both males and females to 50, 150 or 450 ppm paradichlorobenzene vapor for an unspecified period of time. The high-dose group produced fewer live pups that weighed less and had greater mortality rates during the first four days following birth. Male rats showed evidence of nephropathy in the lowest-dose group, although this was considered an effect that is unique to male rats due to their physiology.34
Humans
A woman who ingested one or two toilet air freshener blocks per week made of paradichlorobenzene for the first 38 weeks of her pregnancy gave birth to a normal baby girl. No blood abnormalities were found in either the mother or the child at the time of delivery although the mother suffered from anemia at the time of hospital admission at 38 weeks.19
Absorption
Paradichlorobenzene is absorbed rapidly through the lungs and gastrointestinal tract. Researchers demonstrated that absorption of paradichlorobenzene is more rapid via the oral route than by inhalation in mice. Absorption rates may also vary by species.3
Seven human volunteers inhaled paradichlorobenzene at concentrations of 2.4-2.8 ppm for one hour. Researchers estimated that 46-67% of the inhaled paradichlorobenzene was absorbed by the lungs.35
Dermal absorption of paradichlorobenzene is slow.3
Distribution
Metabolism
Excretion
Biomarkers of exposure to paradichlorobenzene and its metabolite 2,5-dichlorophenol have been reported in the scientific literature. Scientists have used a purge and trap apparatus followed by gas chromatography and mass spectrometry to detect and quantify paradichlorobenzene in blood.36,43 Capillary gas chromatography and mass spectrometry have been used to quantify 2,5-dichlorophenol in urine.36,44,45 These methods of testing for exposure to paradichlorobenzene and its metabolites have not been well-studied in humans, and the clinical significance is currently unknown.46
Researchers analyzed urine or blood from 1,000 adults throughout the United States as part of the third National Health and Nutrition Examination Survey. They detected 2,5-dichlorophenol, the major metabolite of paradichlorobenzene, in 98% of urine and 96% of blood samples evaluated.36
Paradichlorobenzene was detected in the blood of 41-89% of children tested during four separate monitoring sessions involving a total of 134 children in the third National Health and Nutrition Examination Survey.47 In another study, the metabolite 2,5-dichlorophenol was found in the urine of 96% of the 197 children tested, at median concentrations of 9 μg/g and a maximum of 1200 μg/g.48
Soil
The "half-life" is the time required for half of the compound to break down in the environment.
1 half-life = 50% remaining
2 half-lives = 25% remaining
3 half-lives = 12% remaining
4 half-lives = 6% remaining
5 half-lives = 3% remaining
Half-lives can vary widely based on environmental factors. The amount of chemical remaining after a half-life will always depend on the amount of the chemical originally applied. It should be noted that some chemicals may degrade into compounds of toxicological significance.
Water
Air
Paradichlorobenzene sublimes at room temperatures, transforming from a solid directly into a gas.2
Paradichlorobenzene appears to be broken down primarily by interaction with hydroxyl radicals in the atmosphere. The reaction rate has been reported as 3.2-4.9 x 10-13 cm3/mol-sec.58 The half-life of paradichlorobenzene in the atmosphere has been estimated at 31 days.52
Paradichlorobenzene has been detected in rainwater during storms at concentrations of 3.3-7.0 ng/L at ground level in a residential neighborhood of Portland, Oregon.59
Plants
Carrots were grown in planters containing one of four soil treatments. Soil was amended with either low (6.35 g/kg dry weight) or high (59.5 g/kg dry weight) concentrations of sewage sludge containing paradichlorobenzene or spiked with paradichlorobenzene alone at 59.5 g/kg dry weight.60 Carrot foliage from plants grown in control soil, spiked soil, low sewage sludge, and high sewage sludge treatments contained 13 ± 1.2 (mean ± SD), 17 ± 4.0, 22 ± 0.43, and 49 ± 3.9 μg/kg paradichlorobenzene per dry weight of soil.60 Detected levels of paradichlorobenzene in carrot roots ranged from 5.8 μg/ kg to 9.6 μg/kg from treated and untreated soils. Researchers hypothesized that foliar uptake of volatilized paradichlorobenzene could have been an important pathway.60
Samples of Chinese cabbages, carrots, celery, radishes, and spinach were obtained from three sites near an urban area in China. Researchers also collected soil from each site.61 Paradichlorobenzene was detected in spinach and cabbage stems and roots, in the leaves and roots of celery, and the roots of radishes. The highest residues were in celery, with 89 μg/kg paradichlorobenzene in the stems and roots. Researchers did not detect paradichlorobenzene in carrots, and it was present only in the roots of radishes from one site. Soil samples taken from each of the three sites contained an average of 4-27 μg/kg paradichlorobenzene.61
The aquatic macrophyte Ceratophyllum demersum was exposed to paradichlorobenzene at concentrations of 0.5, 1, 5, 10 and 20 mg/L for 24 hours. At 10 mg/L, researchers observed increases in soluble glutathione S-transferase, glutathione reductase activity, and glutathione peroxidase activities. The researchers speculated that C. demersum biotransformed paradichlorobenzene via conjugation to glutathione, and that adverse oxidative effects could occur from paradichlorobenzene exposure.62
Indoor
Food Residue
Birds
Researchers fed 10 young Peking ducks 0.5% paradichlorobenzene in their diet for 35 days. By the end of day 28, three ducks had died and the survivors showed decreased growth rates.5
Fish and Aquatic Life
Terrestrial Invertebrates
No information was found regarding the toxicity of paradichlorobenzene to terrestrial invertebrates.
Date Reviewed: December 2010
Please cite as: Gervais, J.; Luukinen, B.; Buhl, K.; Stone, D. 2010. Paradichlorobenzene Technical Fact Sheet; National Pesticide Information Center, Oregon State University Extension Services. http://npic.orst.edu/factsheets/archive/PDBtech.html.