As of 2011, NPIC stopped creating technical pesticide fact sheets. The old collection of technical fact sheets will remain available in this archive, but they may contain out-of-date material. NPIC no longer has the capacity to consistently update them. To visit our general fact sheets, click here. For up-to-date technical fact sheets, please visit the Environmental Protection Agency's webpage.
Molecular Structure -
Deltamethrin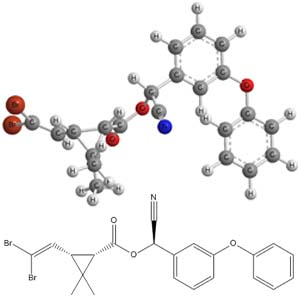 Laboratory Testing: Before pesticides are registered by the U.S. EPA, they must undergo laboratory testing for short-term (acute) and long-term (chronic) health effects. Laboratory animals are purposely given high enough doses to cause toxic effects. These tests help scientists judge how these chemicals might affect humans, domestic animals, and wildlife in cases of overexposure.
Deltamethrin is in the chemical class of pyrethroids.1 Pyrethroids are synthetic chemicals modeled after the pyrethrin components of pyrethrum.2 Unlike other pyrethroids, deltamethrin consists of one pure compound.3
Other names for deltamethrin include (S)-α-cyano-3-phenoxybenzyl (1R,3R)-3-(2,2-dibromovinyl)-2,2-dimethylcyclopropanecarboxylate and the former, rejected name decamethrin. The Chemical Abstracts Service (CAS) registry number for deltamethrin is 52918-63-5.4,5
Deltamethrin is a broad-spectrum insecticide.5
Deltamethrin has been registered for use on areas such as golf courses, ornamental gardens, lawns, outdoor perimeter treatments, indoors as spot and crack and crevice treatments, and pet collars.10 Uses for individual deltamethrin products vary widely. Always read and follow the label when applying pesticide products.
Deltamethrin is registered for use on various crops including cotton, corn, cereals, soybeans, and vegetables for pests such as mites, ants, weevils, and beetles.3,11
The illegal, unregistered product known as "Chinese Chalk" or "Miraculous Chalk" can contain deltamethrin as the active ingredient.12
Signal words for products containing deltamethrin may range from Caution to Danger. The signal word reflects the combined toxicity of the active ingredient and other ingredients in the product. See the pesticide label on the product and refer to the NPIC fact sheets on Signal Words and Inert or "Other" Ingredients.
To find a list of products containing deltamethrin which are registered in your state, visit the website http://npic.orst.edu/reg/state_agencies.html select your state then click on the link for "State Products."
Target Organisms
Non-target Organisms
The mechanism of action of pyrethroids, including deltamethrin, is the same for target and non-target organisms.16
Pyrethroids are less toxic to mammals compared to insects due to mammals' higher body temperature, larger body size, and decreased sensitivity of the ion channel sites.15,17
Oral
Reported LD50 values for rats range from 30 mg/kg (with an oily vehicle) to greater than 5000 mg/kg (in an aqueous vehicle).18 The substance used to administer deltamethrin can influence the LD50 for the oral route most likely by affecting absorption.1,5 See the text boxes on Toxicity Classification and LD50/LC50.
LD50/LC50: A common measure of acute toxicity is the lethal dose (LD50) or lethal concentration (LC50) that causes death (resulting from a single or limited exposure) in 50 percent of the treated animals. LD50 is generally expressed as the dose in milligrams (mg) of chemical per kilogram (kg) of body weight. LC50 is often expressed as mg of chemical per volume (e.g., liter (L)) of medium (i.e., air or water) the organism is exposed to. Chemicals are considered highly toxic when the LD50/LC50 is small and practically non-toxic when the value is large. However, the LD50/LC50 does not reflect any effects from long-term exposure (i.e., cancer, birth defects or reproductive toxicity) that may occur at levels below those that cause death.
Dermal
TOXICITY CLASSIFICATION - DELTAMETHRIN
High Toxicity
Moderate Toxicity
Low Toxicity
Very Low Toxicity
Acute Oral LD50
Up to and including 50 mg/kg
(≤ 50 mg/kg)
Greater than 50 through 500 mg/kg
(>50-500 mg/kg)
Greater than 500 through 5000 mg/kg
(>500-5000 mg/kg)
Greater than 5000 mg/kg
(>5000 mg/kg)
Inhalation LC50
Up to and including 0.05 mg/L
(≤0.05 mg/L)
>Greater than 0.05 through 0.5 mg/L
(>0.05-0.5 mg/L)
Greater than 0.5 through 2.0 mg/L
(>0.5-2.0 mg/L)
Greater than 2.0 mg/L
(>2.0 mg/L)
Dermal LD50
Up to and including 200 mg/kg
(≤200 mg/kg)
Greater than 200 through 2000 mg/kg
(>200-2000 mg/kg)
Greater than 2000 through 5000 mg/kg
(>2000-5000 mg/kg)
Greater than 5000 mg/kg
(>5000 mg/kg)
Primary Eye Irritation
Corrosive (irreversible destruction of ocular tissue) or corneal involvement or irritation persisting for more than 21 days
Corneal involvement or other eye irritation clearing in 8 - 21 days
Corneal involvement or other eye irritation clearing in 7 days or less
Minimal effects clearing in less than 24 hours
Primary Skin Irritation
Corrosive (tissue destruction into the dermis and/or scarring)
Severe irritation at 72 hours (severe erythema or edema)
Moderate irritation at 72 hours (moderate erythema)
Mild or slight irritation at 72 hours (no irritation or erythema)
The highlighted boxes reflect the values in the "Acute Toxicity" section of this fact sheet. Modeled after the U.S. Environmental Protection Agency, Office of Pesticide Programs, Label Review Manual, Chapter 7: Precautionary Labeling. https://www.epa.gov/sites/default/files/2018-04/documents/chap-07-mar-2018.pdf
Inhalation
Deltamethrin is considered low in toxicity by inhalation with a 4-hour LC50 of 2.2 mg/L and a 1-hour LC50 of greater than 4.6 mg/L in rats.5
Signs of Toxicity - Animals
Signs of Toxicity - Humans
Animals
Researchers fed mice deltamethrin for 24 months at doses of 0, 1, 5, 25, or 100 mg/kg/day. The NOAEL was 100 mg/kg/day because no treatment-related effects were observed at any dose.1 See the text box on NOAEL, NOEL, LOAEL, and LOEL.

NOAEL: No Observable Adverse Effect Level

NOEL: No Observed Effect Level

LOAEL: Lowest Observable Adverse Effect Level

LOEL: Lowest Observed Effect Level

Deltamethrin was fed to beagle dogs for 24 months at 0, 1, 10, or 40 ppm. The NOEL was 1.1 mg/kg/day because no treatment-related effects were observed at any dose. In another study with dogs, the LOAEL was 10 mg/kg/day due to chewing and scratching of extremities, tremors, abnormal gait, liquid feces, and changes in blood chemistry.10,19
Rats administered oral doses of 5 or 10 mg/kg/day for 28 days had enhanced natural killer cell activity and increased antibody-forming cells in the spleen at both doses.22
Female rats fed deltamethrin daily for 84 or 14 days at doses of 6 mg/kg or 15 mg/kg, respectively, exhibited immunosuppression of the humoral immune response, decreased lymphocyte enzyme activity, splenic plaque-forming cells, and rosette-forming lymphocytes.3
Humans
No human data were found on the chronic health effects of deltamethrin. See the text box on Exposure.
Exposure: Effects of deltamethrin on human health and the environment depend on how much deltamethrin is present and the length and frequency of exposure. Effects also depend on the health of a person and/or certain environmental factors.
Male rats were administered deltamethrin orally for 65 days at a dose of 1 or 2 mg/kg/day. Plasma testosterone levels were reduced as early as day 14 and continued to be low 21 days post-treatment.3
The potential for significant endocrine effects from deltamethrin exposure is considered to be minimal.19
No human data was found on the endocrine-disrupting effects of deltamethrin.
Animals
Humans
The U.S. EPA classified deltamethrin as "not likely to be a human carcinogen" by all routes of exposure.10 See the text box on Cancer.

Cancer: Government agencies in the United States and abroad have developed programs to evaluate the potential for a chemical to cause cancer. Testing guidelines and classification systems vary. To learn more about the meaning of various cancer classification descriptors listed in this fact sheet, please visit the appropriate reference, or call NPIC.

The International Agency for Research on Cancer (IARC) classified deltamethrin as Group 3, "not classifiable as to its carcinogenicity to humans".24
No human data were found on carcinogenic effects of deltamethrin.
Animals
Humans
No human data were found on the reproductive, developmental, or teratogenic effects of deltamethrin.
Absorption
Distribution
Metabolism
Mammals generally metabolize pyrethroids through ester hydrolysis, oxidation, and conjugation.1 Ester cleavage is the main route of degradation in the body.18,27
Thiocyanate was the primary metabolite after rats were administered deltamethrin orally or intraperitoneally. Other metabolites include PBA (3-phenoxybenzoic acid), 4'-OH-PB acid sulfate (4'-hydroxy-3-phenoxybenzoic acid sulfate), Br2CA (3-(2,2-dibromoethenyl)-2,2-dimethylcyclopropanecarboxylic acid) and its glucuronide conjugate.18
Only the parent compound, deltamethrin, is considered to be toxicologically significant.18
Excretion
Biomarkers of human exposure to deltamethrin have been reported in the scientific literature. Scientists used gas chromatography and mass spectrometry to detect and quantify deltamethrin, its primary metabolite Br2CA, and other metabolites, in urine.28 The methods of testing for exposure to deltamethrin and its metabolites have not been well studied in humans, and the clinical significance of these tests is unknown.
The deltamethrin metabolites cis-3-(2,2-dibromovinyl)-2,2-dimethylcyclopropane carboxylic acid and 3-PBA have been measured in urine samples in national exposure assessments. The metabolite 3-PBA is also a metabolite of other pyrethroids and its presence does not necessarily imply exposure to deltamethrin. Finding a measurable amount in the blood or urine does not mean the level will result in adverse health effects.3,29
Soil
Reported half-lives under aerobic laboratory conditions for deltamethrin in sandy loam or silt loam soil ranges from 11-72 days.1,5,9 See the text box on Half-life.

The "half-life" is the time required for half of the compound to break down in the environment.

1 half-life = 50% remaining
2 half-lives = 25% remaining
3 half-lives = 12% remaining
4 half-lives = 6% remaining
5 half-lives = 3% remaining

Half-lives can vary widely based on environmental factors. The amount of chemical remaining after a half-life will always depend on the amount of the chemical originally applied. It should be noted that some chemicals may degrade into compounds of toxicological significance.

In anaerobic soil conditions, the half-life of deltamethrin ranges from 31-36 days.5
The half-life of deltamethrin ranged from 5.7-209.0 days in four terrestrial field dissipation studies.9
Deltamethrin degrades via hydrolysis, photolysis, and microbial action. It is not susceptible to photo-oxidation, and is more persistent in soils with a high clay or organic matter content.3,5,9,27
Hydrolysis of deltamethrin results in the formation of Br2CA and PBA.9
Deltamethrin is considered relatively immobile in soils, while its two major degradation products, Br2CA and PBA are more mobile.3,9 Deltamethrin adsorbs to soil organic matter so strongly that biodegradation can be stalled.27
Deltamethrin has little potential to leach into groundwater due to its strong tendency to bind to soil organic matter.5
In a field study, approximately 24% of deltamethrin volatilized from the soil surface within 24 hours of application.30
Water
Air
Due to its vapor pressure (1.5 x 10-8 mmHg at 25 °C), deltamethrin has a low potential to volatilize.3
Plants
Indoor
Under indoor laboratory conditions, soil treated with deltamethrin had a half-life of 4.8 weeks.3
Pyrethroids have a higher rate of volatilization from floor or glass surfaces than from soils since they are not as likely to adsorb to these surfaces.3
Food Residue
In 2006, the United States Department of Agriculture (USDA) Pesticide Data Program (PDP) analyzed 9030 samples of fruits and vegetables for deltamethrin and its parent compound, tralomethrin. Of the samples tested, only one sample had detectable residues and the amount detected was eight times less than the U.S. EPA tolerance level.36
In the same study, 133 finished water samples, 133 untreated water samples, 734 peanut butter samples, and 655 samples of poultry breast and thigh were analyzed for deltamethrin and tralomethrin. No samples had detectable residues.36
Birds
Deltamethrin is practically non-toxic to birds when ingested with a reported acute oral LD50 for mallard ducks (Anas platyrhynchos) of greater than 4640 mg/kg. The 8-day dietary LC50 is greater than 8039 mg/kg for mallard ducks and greater than 5620 mg/kg for quail.5
Deltamethrin did not affect the reproduction of female Japanese quail (Coturnix japonica) when fed daily doses of 0, 0.2, or 1.0 mg for 34 days.1 In other studies, the NOEL established for mallard ducks and bobwhite quail (Colinus sp.) were greater than 70 mg/kg and greater than 55 mg/kg, respectively, for reproduction.5
Fish and Aquatic Life
Terrestrial Invertebrates
Deltamethrin is highly toxic to honeybees (Apis sp.) under laboratory conditions. One study reported an oral LD50 of 51 ng/bee and a contact LD50 of 51 ng/bee.5 In field studies, deltamethrin did not harm bees at rates up to 12.5 g a.i./ha and formulated products had a repellant effect lasting for 2-3 hours.1
Researches observed no effects on earthworms when the soil was treated with 12.5 g/ha of deltamethrin for 28 days.1
The reference dose (RfD) for deltamethrin is 0.01 mg/kg/day.10 See the text box on Reference Dose (RfD).

Reference Dose (RfD): The RfD is an estimate of the quantity of chemical that a person could be exposed to every day for the rest of their life with no appreciable risk of adverse health effects. The reference dose is typically measured in milligrams (mg) of chemical per kilogram (kg) of body weight per day.

U.S. Environmental Protection Agency, Integrated Risk Information System, IRIS Glossary, 2009. https://www.epa.gov/iris/iris-glossary#r

The U.S. EPA has classified deltamethrin as "Group D - not classifiable as to human carcinogenicity" by all routes of exposure. 10 See the text box on Cancer.
The acute Population Adjusted Dose (aPAD) is 0.0033 mg/kg/day based on a NOAEL of 1.0 mg/kg/day.10
The chronic Population Adjusted Dose (cPAD) was determined to be 0.0033 mg/kg/day based on a NOAEL of 1.0 mg/kg/ day.10
The Acceptable Daily Intake (ADI) for deltamethrin is 0.01 mg/kg.5
Date Reviewed: March 2010
Please cite as: Johnson, M.; Luukinen, B.; Buhl, K.; Stone, D. 2010. Deltamethrin Technical Fact Sheet; National Pesticide Information Center, Oregon State University Extension Services. http://npic.orst.edu/factsheets/archive/Deltatech.html.