Total Release Foggers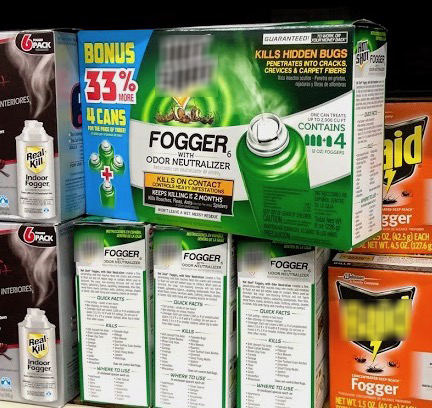 Total release foggers — also called foggers or bug bombs — work by spraying a mist into the air that falls onto exposed surfaces and objects. They do not spray out gas and do not reach into unexposed voids, cracks and crevices, where pests may hide.
Fogger ingredients typically kill insects that are in the open and touch the pesticides. Foggers may not work on some pests that like to hide, such as bed bugs and cockroaches.
Using too many foggers can increase risks to people, pets and the environment. Fogger contents can catch fire and pose explosion hazards.
Before you choose and use foggers:
Tips to protect people, pets, and property:
Know the risks:
If you have questions about this, or any pesticide-related topic, please call NPIC at 800-858-7378 (8:00am - 12:00pm PST), or email us at npic@ace.orst.edu.
Additional Resources
Last updated August 02, 2019