Stink Bugs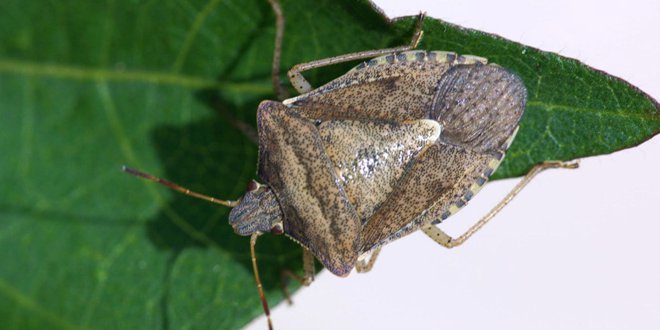 Several kinds of stink bugs exist naturally in the U.S. but a new species arrived recently, the Brown Marmorated Stink Bug (BMSB). It has become a problem for farmers and homeowners alike. The BMSB came from Asia in the 1990s and, since then, has hitched rides to many states. The adults emerge in spring and feed on plants, causing damage and spreading diseases to fruit, vegetable and other plants. Offspring produced during the summer often seek shelter as temperatures drop in the fall, causing severe infestations in homes and businesses.
Control tips:
Stink bugs do not do any structural damage to homes and they do not sting or bite.
Stink bugs release foul smelling chemicals to avoid predators. They also give off other chemicals to attract other stink bugs.
When a BMSB finds a suitable winter shelter, it secretes a chemical odor that attracts other stink bugs.
Killing a stink bug does not attract more stink bugs.
To keep your home from becoming attractive to stink bugs, seal up windows and foundations to prevent their entry and quickly removing any stink bugs that find their way in by hand or with a vacuum.
Stink bugs begin to emerge in spring and early summer. You can use a simple homemade light trap to capture and kill many of them indoors.
Using pesticides inside the home to control stink bugs is often ineffective.
Some pesticides have been effective when used as outdoor perimeter treatments for homes when applied at the correct time of year.
If you need help identifying or controlling stink bugs, see the resources below or contact your local cooperative extension office for assistance. Many extension agents are monitoring the spread of invasive stink bugs and are willing to provide help identifying local species.
If you have questions about this, or any pesticide-related topic, please call NPIC at 1-800-858-7378 (8:00am - 12:00pm PST), or email us at npic@ace.orst.edu.
Last updated September 21, 2020
Stink Bugs
Confirm their identity. Stink bugs are often confused with other bugs.
Quickly remove any stink bugs found inside homes. Stink bugs use chemical odors to attract others to winter hiding spots.
Remove stink bugs by hand or with a vacuum.
Killing or vacuuming stink bugs may release a foul odor. This odor will not attract other bugs.
Stink bugs do not bite, sting, or cause structural damage.
To prevent re-infestation, find and seal up entry-ways into the home. Check around doors, windows, and cracks in foundations.
Make a trap by putting soapy water into a roasting pan. Place it in a dark room and direct a light toward it. Stink bugs are attracted to light.
Often, using pesticides indoors to control stink bugs does not work.
Correctly timed outdoor perimeter pesticide treatments may be effective.
If you choose to use a pesticide, read the label before you buy. Try a lower toxicity product first.
If you have a pesticide product in mind, have your label handy and click here for information about that product.
County Extension Offices
Through its county agents, the Cooperative Extension Service gives individuals access to the resources at land-grant universities across the nation. These universities are centers for research in many subjects, including entomology (the study of insects) and agriculture. Each county within the United States has an Extension office, which is staffed with agents who work closely with university-based Extension specialists to deliver answers to your questions about gardening, agriculture, and pest control. You can find the phone number for your local county extension office in the local government section (often marked with blue pages) of your telephone directory or by clicking on the map below.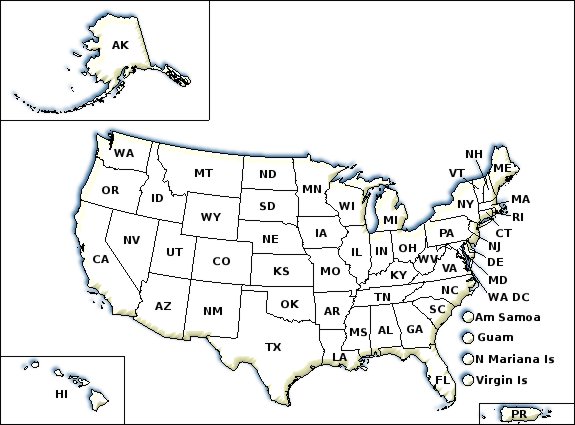 U.S. States:
AK | AL | AR | AZ | CA | CO | CT | DE | FL | GA | HI | IA | ID | IL | IN | KS | KY | LA | MA | MD | ME | MI | MN | MO | MS | MT | NC | ND | NE | NH | NJ | NM | NV | NY | OH | OK | OR | PA | RI | SC | SD | TN | TX | UT | VA | VT | WA | WI | WV | WY | Washington D.C. |
U.S. Territories:
Puerto Rico | American Samoa | Guam | Northern Mariana Islands | Virgin Islands