Silverfish and Firebrats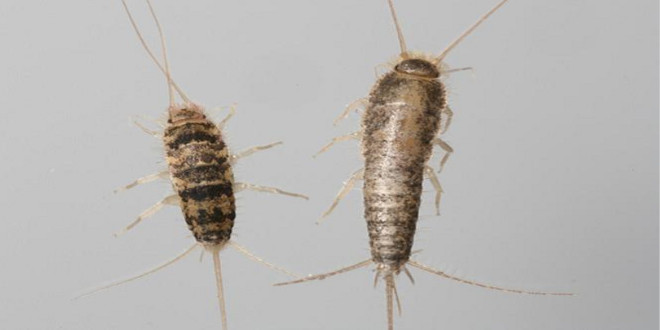 Silverfish and firebrats (also known as bristletails) are wingless insects with flat, carrot-shaped bodies. Silverfish and firebrats are very fast runners, so they are often seen when their hiding places are disturbed. Most active at night, they feed on a variety of foods, such as flour, cereals, dust, dead insects, and certain fungi. They also eat starchy substances like cotton, linen, silk, wallpaper, and glues used in book-bindings and cardboard boxes.
Silverfish prefer damp and cool places, such as basements, attics, garages, laundry rooms, closets, and storage areas with boxes and/or books. On the other hand, firebrats prefer very warm, moist places. They are found around ovens, heating units, fireplaces, and hot water pipes. The presence of silverfish or firebrats indicates too much moisture in the area. An Integrated Pest Management (IPM) approach may involve moisture control, cleaning, and structural modifications like replacing broken windows and/or leaking pipes, and possibly the use of insecticides.
Control tips:
Identifying the pest will narrow down the areas to inspect. Consult your local Cooperative Extension Service for help identifying your pest.
Thoroughly inspect areas where silverfish or firebrats are suspected to be coming from, noting any excessive moisture and cluttered conditions.
Seal holes or spaces around pipes and conduits to eliminate entry points.
Remove any outside hiding places, including debris and lumber piles, or move them away from the house.
Remove and properly store any old stacks of papers, books, magazines, or fabrics.
Keep cereals, flour, meal, pasta, and pet foods in airtight containers.
After sealing entry points and reducing moisture levels, consider trapping any stragglers. Cover the outside of a lidless glass jar with masking tape and leave it in a place the bugs will find it. They can climb in, but they cannot get out.
If you decide to use a pesticide, always read and follow label directions. Make sure the pesticide is intended for silverfish and firebrats.
Tips for reducing moisture in your home:
Repair leaking pipes, seeps, and eliminate standing water.
Use fans to ventilate closed rooms, basements, and attics.
Consider using a dehumidifier in closed spaces such as bathrooms, basements, garages, and attics.
If you have questions about this, or any pesticide-related topic, please call NPIC at 1-800-858-7378 (8:00am - 12:00pm PST), or email us at npic@ace.orst.edu.
Additional Resources:
Last updated February 05, 2013