Houseplant IPM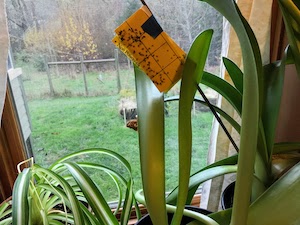 Keeping plants indoors prevents most pests from attacking them. However, sometimes pests hitch a ride indoors on new plants. Pests also may infest plants if we've kept them outdoors for a while.
Integrated pest management can help you keep both plant pests and pesticides to a minimum.
Using pesticides on indoor plants poses different risks than using pesticides outdoors.
Homes are less ventilated than the open air, so vapors remain in the air much longer. They can harm indoor air quality. We are more likely to breathe those vapors indoors.
We spend many hours of our lives in our homes, which also increases our exposure to any chemical that is used indoors.
Houseplants can be chewed on and eaten by our pets, and all pesticides can pose risks to our companion animals.
Overspray could wind up on furniture or the floor, either damaging these surfaces or posing an exposure risk.
Houseplant pest control tips:
Integrated pest management (IPM) means using what we know about the pest's biology and behavior to help control it. If we know what the pest needs, we may be able to change the local environment so that the pest cannot live there anymore.
Pick plants that will grow well in your particular indoor environment. A good local nursery or gardening club can help you find the right plants.
Sometimes a plant will do poorly in one location in your home but thrive in another because of differences in light and temperature. Find out what conditions work best for each type of plant.
Healthy plants are resistant to pests and disease. Pay attention to the light, water, and fertilizer you give your plants. Different plants have different needs.
Inspect your plants frequently and regularly so you catch problems early.
Maintain good sanitation and remove dead plant material. This will help you spot new pest infestations or disease.
Indoor plants may suffer from insect, mite, fungal, or bacterial pests. Some nutrient imbalances may look like diseases. Identify the pest for your best chance of successful control. Your County Extension Service or Master Gardener Program can help identify pests and help you learn what conditions are best for your plants.
Ask for help! The Master Gardeners of the County Extension Service are a great resource for pest management as well as pest identification. You can also try contacting the Bio-Integral Resource Center.
Try using integrated pest management first. If you do use a pesticide, read the label carefully first, and take steps to minimize your exposure.
If you have questions about this, or any pesticide-related topic, please call NPIC at 800-858-7378 (8:00am - 12:00pm PST), or email us at npic@ace.orst.edu.
Additional Resources:
Last updated January 15, 2021