Fire Ants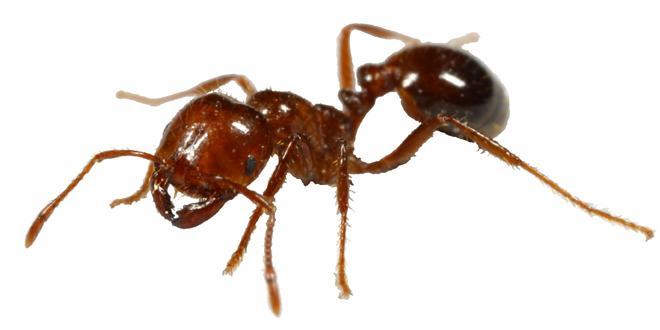 Fire ants are extremely aggressive when bothered, and they may sting repeatedly. When stung, people may also experience itching, followed by the appearance of a white, fluid-filled pustule. Sensitive people may also have swelling, chest pain, difficulty breathing, nausea, and sweat after being stung. If this happens, get emergency medical treatment immediately. You can dial 911, or reach a Poison Control Center by dialing 1-800-222-1222.
Fire ants were introduced into the United States in the 1920's and 1930's. Now they are considered an invasive species in the southern states from Virginia to New Mexico, as well as California and Puerto Rico. Therefore, all areas where fire ant activity has been reported are under a quarantine regulated by the USDA.
Control tips:
Regularly empty outside trash cans near buildings and in parks to keep fire ants from finding food.
Keep plants trimmed away from buildings to keep fire ants from using the plants as a bridge to the building.
Fire ants like greasy and oily foods, especially cat and dog foods. Take steps to keep ants from having access to pet foods.
Knocking down a mound repeatedly can cause it to move away from a sensitive site, such as a garden or playground.
Pesticides can be applied to individual ant mounds, or using a broadcast approach that involves treating a larger area.
Always read and follow label directions for any pesticide product.
Baits are available which have the potential to be carried into the colony by worker ants. This may eventually kill the queen.
Fire ants often infest electrical equipment. For safety reasons, only a licensed pest control operator or an electrician should treat fire ants in or near these areas.
If you have questions about this, or any pesticide-related topic, please call NPIC at 1-800-858-7378 (8:00am - 12:00pm PST), or email us at npic@ace.orst.edu.
Additional Resources:
Last updated November 16, 2015