My home is being sprayed, should I go or stay?
Brent and his dog Butch had been living in an apartment for six months when Brent discovered a letter in his mailbox saying that the apartment manager was planning his annual "pest eradication program." Brent was a little confused about what to do. The letter from the apartment manager said that three different pesticide products would be sprayed in his apartment by a professional applicator on a certain day. Brent was concerned about the possible effects of the pesticides on him and his dog. He didn't know whether or not he should stick around during the application. Brent noticed a phone number at the bottom of the letter for the National Pesticide Information Center (NPIC).
Click here to find out what Brent learned when he called NPIC.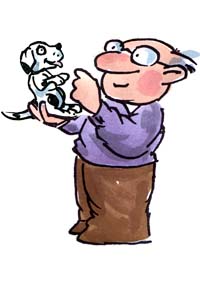 ---
Take Home Message
The NPIC specialist encouraged Brent to work with the applicator to find out how and where the products would be applied. Next, the specialist talked about toxicity and exposure, the two factors that determine risk. Brent learned about the toxicity of each pesticide product on the list, then he discovered that he could take control of the situation by controlling the amount of pesticide that he and Butch came in contact with. He could reduce risk by reducing exposure. The NPIC specialist explained that exposure can happen by three main routes: swallowing, inhaling, or touching the pesticide. Then he discussed several options for reducing exposure, including:
Leaving his home during the application
Ventilating upon return by opening windows and doors, and using a fan
Knowing where and how the products would be applied
Staying away from the treated areas until the pesticide has dried
Keeping Butch's toys, dishes, and bedding away from the application sites
Maintaining a positive dialogue with the applicator and his landlord
Brent decided to take Butch for a hike on the day of the application, just to reduce any potential for exposure.
Click here to read more about how to protect pets from pesticides!