Dirty work clothes: how should I wash out pesticides?
Amanda was starting a load of laundry when she noticed a strong chemical odor. Ever since her husband Dan started his new job applying pesticides, his work clothes have had that distinct smell. Amanda hadn't wanted to say anything to Dan, but she was a little worried about washing his work clothes with the family laundry. After several weeks of worrying, she decided to call her doctor's office to see if they had any information about pesticides in clothing. The medical assistant at the clinic told her that she should call the National Pesticide Information Center (NPIC) to see if Amanda should change the way she was washing her husband's clothes.
Click here to find out what the NPIC specialist told Amanda about washing pesticide contaminated clothing.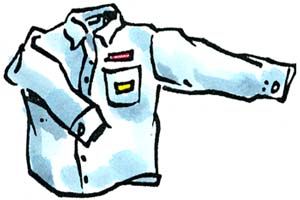 ---
Take Home Message
Amanda called NPIC and was surprised to hear a live person answer her call. She told the NPIC specialist about her husband's work clothes and her concerns. The specialist asked Amanda about the type of pesticides her husband used. She was embarrassed to admit that she really didn't know a lot about them. The specialist said that some pesticide product labels had specific washing instructions for contaminated clothing. The specialist provided these general rules of thumb published by University Extension professionals in North Dakota, Missouri and Ohio.
Store and Wash contaminated clothing separately from the family laundry.
Clothes that are soaked with pesticides should be thrown away rather than washed.
Wash work clothing each day to maximize removal of chemicals. Clothing can keep pesticides away from the skin during work hours; however, that same clothing can become a source of contamination if pesticides aren't laundered after each use.
Pre-rinse contaminated clothing by hosing them down outdoors, soaking in a separate tub or agitating in the washing machine.
Wash only a few items at a time.
Use hot water - the hotter the better.
Use heavy duty laundry detergent.
Laundry additives such as chlorine bleach or ammonia do not improve removal of pesticide residues.
Line dry, if possible. Sunlight breaks down many pesticides and it can prevent residues from collecting in the dryer.
Remove any leftover pesticides from the washer by running an "empty load" through the complete cycle with hot water.
The specialist showed Amanda the extension publications related to pesticides and clothing. Amanda said she may call NPIC back for any additional questions.